Product Announcement from Wanner Engineering, Inc.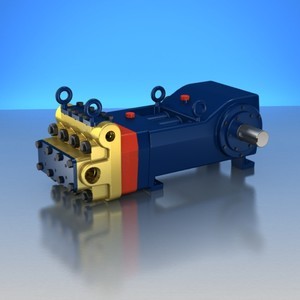 The award winning T80 Series packing-free triplex pumps from Wanner Engineering are seal-less diaphragm pumps designed to replace packed plunger pumps and have the ability to run dry without damage, operate with a closed or blocked suction line and effectively pump abrasive fluids.
The award-winning technology of the T80 Series pumps allows them to compete with traditional plunger pumps in performance and cost, while eliminating packing and plunger wear, leakage, external lubrication and emissions - resulting in lower costs of ownership and maintenance and longer life than their packed counterparts.
T80 Series models include:
T8045, the first in this series of pumps, has a flow rate of 1500 BPD (45 gpm) at a pressure of 3000 PSI.
T8030 (1000 BPD at 4500 PSI)
T80100 (3200 BPD at 1440 PSI)
When we say "Simply Build to Last", we mean it. We understand the needs to keep plan and equipment running day after day without interuption. Wanner Engineering Hydra-Cell Duty Pumps have proven their performance and reliability in some of the toughest industrial equipment and process applications.
Be sure to contact Wanner Engineering today to discuss your specific diaphragm pump application!
You have successfully added from to your part list.
You need Flash player 8+ and JavaScript enabled to view the See Video Hi Pressure Packing-free Triplex Pump video.
Get the Latest Flash player.
---