Industrial Clutches and Brakes
Product Announcement from Warner Electric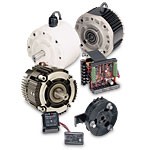 Warner Electric manufactures hundreds of standard off-the-shelf clutch and brake models featuring electric and mechanical actuation with a torque range from a few ounce inches to 1350 pound feet. Warner Electric is also a major supplier of engineered products, custom designed for specific original equipment manufacturers.
Industrial Clutches & Brakes
Clutches and brakes are used to start, stop, or hold loads. Warner Electric offers six different groups of clutch/brake products, along with complementary accessories to meet a broad range of starting, stopping and holding requirements. This product offering includes the following:
Packaged C-Face – These are clutch and brake module products with NEMA C-face compatible mountings for shaft, foot or motor mounting. Products are available as completely assembled packages or in modular form for customer assembly into clutches, brakes or clutch/brake units.

Packaged Shaft and Foot Mounted – These are shaft or foot mounted, electric, permanent magnet and magnetic particle clutches and brakes, which are all factory assembled for ease of installation.

Electrically Released Brakes – Warner Electric offers a variety of electrically released brakes for performing stopping and holding functions in cycling applications as well as emergency situations. Both shaft mounted and NEMA C-face compatible units are available for shaft, foot or motor mounting.

UNIBRAKE® AC Motor Brakes – Warner Electric spring applied motor brakes are designed to decelerate or park inertial loads when the voltage is turned off, either intentionally or accidentally, as in the case of power failure. Two styles of AC Motor Brakes are available: the single C-Face brake and the double C-Face brake. The single C-Face mounts on the non-driven end of a motor. The C-Face brake is interchangeable with existing brakes and can be used on motors that are modified to accept a brake. The double C-Face brake can be used as a coupler between standard C-Face motors and C-Face gear reducers.
Basic Clutches & Brakes – Basic clutches and brakes are customer configured and customer assembled to form clutches, brakes, clutch couplings, clutch/brakes, clutch/brake couplings or motor brakes.

Fractional HP Clutches/Brakes – Warner Electric clutches and brakes are designed to start and stop inertial loads when the voltage is turned on. When DC voltage is applied to the coil, the magnetic force caused by the magnetic flux pulls the armature across the air gap against the force of the zero-backlash spring attached to the armature. The mating of the armature and rotor face transmit torque.
Tension Clutches & Brakes – Warner Electric offers a wide range of clutches and brakes – electric, pneumatic, permanent magnet and magnetic particle units – for light to heavy duty tensioning applications.

Wrap Spring Clutches & Clutches / Brakes – These are well suited for performing indexing, positioning and backstopping functions. Wrap Spring units provide a high torque-to-size ratio and are offered as mechanically or electrically actuated units.
Warner Electric also offers a broad variety of Clutch/Brake Controls and Accessories to maximize performance and productivity of your clutches and brakes.
---