Washington Mills Laboratory Services
Service Detail from Washington Mills Electro Minerals Company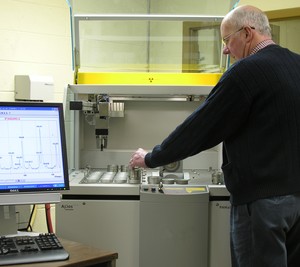 The Washington Mills Laboratory Services Group offers a complete laboratory and materials testing facility, staffed by a team of full-time chemists and technicians, each of whom has years of experience in determining the chemical and physical properties of a variety of materials. Our materials laboratory has the ability to characterize a wide variety of materials including: abrasive grain, refractory raw materials, ceramic powders, clays, soil, cement, minerals, and many more materials. Our materials testing lab is an independent materials laboratory that is accurate, fast, competitively priced and has earned the reputation of for being highly responsive to customer needs. If you haven't used our laboratory services before, contact us today to find out more. Credit cards are accepted.
Getting Started
To find out more about our Laboratory Services, please direct your inquiry to:
John Fomenko
Laboratory Services Manager
Phone: 716-278-6600
Email: info@washingtonmills.com
Using advanced laboratory capabilities, Washington Mills maintains exacting control over chemical composition, purity and crystal structure, guaranteeing the consistency needed to meet the most critical applications with the goal of continuous improvement in service and quality to our customers. We make use of the most current methods of analysis and tools including: instrumental, analytical, physical measurements, X-Ray Diffraction Analysis, X-Ray Fluorescence Analysis (XRF).
Our instrumentation and equipment is calibrated at frequent intervals to meet the most demanding method requirements. Analytical results are standardized against commercially available reference materials - primarily through the National Institute of Standards and Technology. We make use of the most current methods of analysis, including those derived from nationally recognized organizations such as ANSI, ASTM, and military specifications for testing under government contracts.
Laboratory Services Include:
Instrumental Analysis
X-ray diffraction analysis
X-ray Flourescence
Microscopic evaluation
Analytical
Total, free carbon
Hydrogen, chlorine
UV/VIS spectrophotometry
Moisture
Loss or gain on ignition
Sample preparation
Physical Measurements
Particle Size - Rotap, Coulter, Microtrac, Wet screen
Bulk density
Specific gravity
Magnetics
Microhardness testing
Friability
X-Ray Diffraction Analysis
Automated diffractometer for crystalline phase characterization. Qualitative and quantitative capabilities enable the operator to directly determine the crystalline compounds and free elements that make up the wide range of samples that pass through the analytical lab.
Non destructive analysis
Automatic sample changer, capable of scanning 35 samples overnight, conducting peak search and supplying computer printout and profile.
JCPDS (Joint Committee on Powder Diffraction Standards) database containing approximately 35,000 inorganic and 10,000 organic crystalline compounds for computer-aided phase identification. Manual searches are also possible.
Characterization of simple chemical compounds to very complex solid solution materials (alloys) and silicate minerals such as clays, feldspars, micas etc.
Positive identification of asbestos in various materials
Identification of multiphased specimens containing up to 10 crystalline compounds
Identification of various polymorphs (more than one crystal structure) of many substances i.e. crystalline SiO2, quartz, cristobalite, tridymite.
Typical detection limit is 0.5%
Capable of quantitative analysis of most crystalline substances, such as the determination of free crystalline silica in many refractory and ceramic materials such as Al2O3 in alumina.
Average crystallite size can be determined in many materials
X-Ray Fluorescence Analysis (XRF)
Fully automated wavelength dispersive x-ray spectrometer, equipped to determine most elements on the periodic table from fluorine to uranium. Special x-ray tube and optics to give high sensitivity for light elements while maintaining ppm sensitivity for heavier elements. Highly stable electronics allow extremely reproducible analysis, typically 1-2% coefficient of variation.
Minicomputer with up to date software for fast data processing and on-line interference correction. Operator has a choice of empirical calibration/correction models or optional fundamental parameters model, which allows accurate analysis of materials with a single calibration standard which need not match the unknown.
Automated elemental analyses are possible on a variety of materials including metal, cement, glass, ceramics, ores, rocks, clays, coal, coke, ash, catalysts, airborne and deposited dusts.
Samples are prepared for analysis using ground surface, pressed pellet, borate fusion or loose powder techniques
Qualitative analysis can be performed covering most elements from fluorine to uranium. Element identification is performed by system software which includes the entire NIH database pf 3,000 x-ray emission lines.
Semiquantitative analysis can be carried out to estimate the concentration of elements present.
Quantitative analysis can be performed to precisely measure specific elements. Analysis capability extends from low ppm levels for many elements to 100%. Our automation allows for very cost efficient repetitive analysis.
---