Dead Level Trench Drain System
Product Announcement from Watts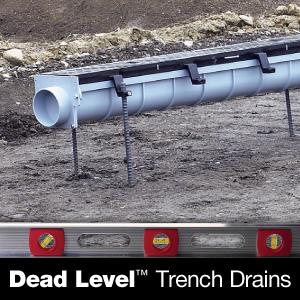 Trench drains just got a whole lot easier. Make channel floating, pinching and misalignment a thing of the past. The uniquely engineered Dead Level™ system's frame anchored design ties rebar to the structural frame, not the channels, eliminating problems during the concrete pour. Its solid flanged channel, end cap and frame connections create proper joints and alignment.
Tired of struggling to cut trench drain pieces to fit your installation? The Dead Level™ system comes in standard 4 ft. sections as well as 1 ft. straight and combination corner/tee sections for flexibility on uneven runs, eliminating the need for cutting in the field. Standard plastic construction covers protect grates and keep trench drains free of debris during construction. See it in action, watch our Dead Level™ overview video.
Features
Superior materials
Stability & structural strength
Frame anchored design
Solid connections
Short & Corner/Tee sections
Maximum flow
Grating for diverse commercial applications
Molded construction covers standard
Patent pending
Contact Us Today
To learn more about Watts Dead Level Trench Drain System, contact your local Authorized Watts Representative today to schedule an appointment.
About the Company
Founded in 1874, Watts, a subsidiary of Watts Water Technologies, Inc., is one of the world's largest independent valve companies with 11 factories in the United States and Canada. Watts designs, manufactures, and sells an extensive line of flow control products for the water quality, residential plumbing and heating, commercial and OEM markets. Visit us online at www.watts.com.
You have successfully added from to your part list.

Play Dead Level Trench Drain System Video
---