Industry Standard Water Closet Carriers
Product Announcement from Watts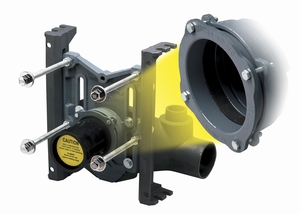 The Industry Standard Compression Seal Water Closet Carriers feature an innovative compression seal design that eliminates leak problems commonly associated with traditional threaded O-ring seal carriers. Leaking carriers can also trigger dangerous mold formation problems, which can be extremely costly to rectify.
The Watts Industry Standard patent pending design incorporates a bolted compression seal, using an ASTM C564 compression gasket. The smooth ABS nipple mates positively with the compression gasket across a wide area, creating a positive, leak-proof seal, before and after nipple adjustment. Industry Standard carriers install without sealants, and hold an air or water test, first time. Contractors no longer spend valuable time sealing leaks and performing system re-tests.
Features
Proven flanged compression seal with ASTM C564 compression gasket
Smooth nipple seal covers 4x more surface area than traditional threaded nipple/O-ring seal
Nipple adjusts easily from outside finished wall with standard
socket extension
Shortened (cut) nipples will not damage seal when re-positioned
or re-installed
Patent Pending

Benefits
Eliminates damaging and costly behind-the wall carrier leaks
Moisture cannot penetrate seal and trigger mold formation problems
Positively holds air or water test first time
No additional sealants or lubricants required
at installation
Contact Us Today
To learn more about Industry Standard Compression Seal Water Closet Carriers contact your local Authorized Watts Representative today to schedule an appointment.
About the Company
Founded in 1874, Watts, a subsidiary of Watts Water Technologies, Inc., is one of the world's largest independent valve companies with 11 factories in the United States and Canada. Watts designs, manufactures, and sells an extensive line of flow control products for the water quality, residential plumbing and heating, commercial and OEM markets. Visit us online at www.watts.com.
You have successfully added from to your part list.
---