Pure Water: Is Your Water Better Than Bottled?
Product Announcement from Watts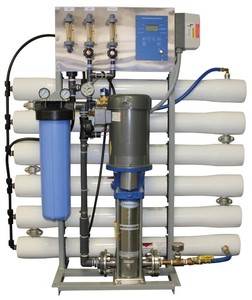 Your water should be clean, clear and healthy. Yet, your water is probably laced with impurities, particulates, carcinogens, or other life-threatening contaminants. So how can your water be the highest quality as possible?
Whether your location is large or small, Pure Water has one of the largest breadths of water quality products in the industry that will solve any of your water quality problems.
Pure Water is innovative, economical and environmentally-friendly, with solutions like our unique, residential ZeroWaste reverse osmosis system. True to its name and first of its kind, this system doesn't waste any water. Typically, comparable systems will waste 4-12 gallons for every gallon of Reverse Osmosis (RO) water produced. High quality, durable components and replacement parts mean longer-lasting solutions that will require less maintenance or replacements over the lifetime of the equipment. Watts' engineering and customer service teams will work with you to find the best Pure Water solution that fits your needs.
Want to Learn More about Pure Water?
For our full list of Watts Product Announcements, click here.
---