Residential Fire Protection Product Line
Product Announcement from Watts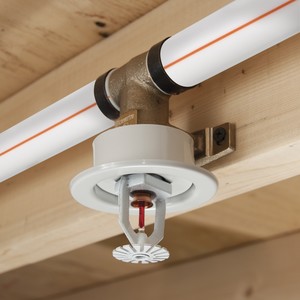 The Watts Fire Protection product line includes: Watts RF PEX™ Tubing, Watts Lead Free RF PEX™ Fittings and Watts Lead Free RF PEX™ Sprinkler Fittings. Watts RF PEX Sprinkler Fittings are designed to accept all standard ½″ residential sprinkler heads and will work with a variety of sprinkler head brands. As a convenience, Watts offers a variety of Viking Residential Sprinkler Heads-including both pendent and decorative concealed styles-in both lead-free and standard materials.
Rounding out Watts' PEX offering, the RF PEX Tubing features a distinctive orange stripe, which makes it easier for inspectors to visually follow Fire Protection tubing throughout the installation and significantly speeds inspections. The product line also reduces installation time and cost by using a fitting connection that installers already know-the popular CrimpRing® fitting-which has long been one of the fastest and safest methods in the industry for permanently installing PEX plumbing.
Many of today's cash-strapped communities recognize the safety benefits of fire sprinklers, and the cost savings that come from the conservation of precious emergency-response resources. Cities and states across the U.S. are passing legislation and ordinances requiring mandatory fire sprinklers in new home construction and often providing contractors with significant incentives to install them.
Watts Residential Fire Protection Products are UL 1821 listed and meet National Fire Protection Association requirements for fire suppression (NFPA 13D) when designed and installed by professionals who are licensed/certified for residential fire protection. All Watts brand residential fire protection products are made in the USA. As with all Watts products, Residential Fire Protection products are made from the most durable and reliable components the industry has to offer. For more information and specifications, please visit www.watts.com/resfire.
You have successfully added from to your part list.
---