Product Announcement from Watts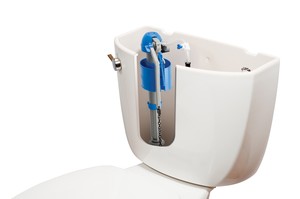 Watts, a Watts Water Technologies Company, introduces the Governor 80M2 Toilet Fill Valve designed to conserve water and protect plumbing systems. The Governor 80M2 valve features a sensor that automatically shuts off water to a leaking flapper to prevent the tank from continuously refilling. In addition, the valve includes an adjustable flow control device that ensures the tank will only fill to the appropriate level each time. A traditional toilet bowl often overfills, resulting in wasted water (up to 12% per flush).
The Governor 80M2 valve also includes a built-in surge relief that limits the supply line pressure to 80psi, which protects plumbing from the damaging effects of pressure surges, thermal expansion and banging pipes due to "water hammer". This cost-saving feature reduces the need for a thermal expansion tank.
The Governor 80M2 is easy to install and can be adjusted - both prior to or after installation - to fit all standard toilet tanks.
For more detailed information and to view an installation video about the Watts Governor 80M2 Toilet Fill Valve, please visit http://www.watts.com/pages/Product-Profile/Gov80M2/.
You have successfully added from to your part list.

Play Toilet Fill Valve Detects Leaks Video
---