Watts Quick-Connect Fittings and Valves
Product Announcement from Watts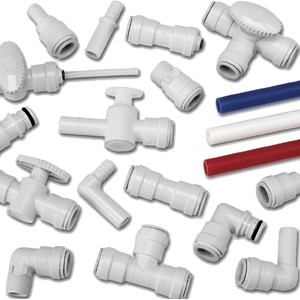 Watts is pleased to introduce the 35 Series Quick-Connect fittings & valves. The Watts 35 Series quick-connect design allows for fast, easy, leak free connections for Copper, PEX, PB and CPVC piping without installation tools.
PATENTED DESIGN
Watts 35 Series Quick-Connect fittings & valves incorporate a patented collet and O-ring guide design that protects the O-ring during installation and keeps it from binding and crimping, even under extreme side load conditions. The corrosion resistant stainless steel gripping teeth in the collet allow the Watts 35 Series Quick-Connect fittings & valves to interconnect with multiple materials without the need for special tools or tube inserts. Stackable connector configurations using tee and/or elbow fittings can be used to quickly snap together mini-manifolds, eliminating many small lengths of tubing and extra joints and reducing the time required to plumb an entire system.
All Watts 35 Series products are made of Polysulfone, a high performance thermal plastic material and are approved and certified to NSF-61, NSF-14, CSA B137.5, ASTM F877, and to the Uniform Plumbing Code (U.P. Code). All connections made with the Watts 35 Series are sealed on the outside diameter of the pipe, increasing flow capacity by 30% compared to tubing connected using barbed fittings. Watts 35 Series connectors utilize a swivel nut with NPS straight threads and a cone seal allowing installers to thread onto NPT, NPS, BSP and most standard threads without tools or thread sealant. The 35 Series is rated to a maximum operating pressure of up to 250psi at 75ºF and 100psi at 180ºF.
MORE INFORMATION
Request literature PL-QuickConnect by calling us at 1-800-617-3274, faxing us at 978-689-6209, visiting our website at http://www.watts.com or writing to:
Watts Quick-Connect Plumbing Solutions
Attn: Literature Department
815 Chestnut Street
North Andover, MA 01845
Watts Quick-Connect Plumbing Solutions, a division of Watts Regulator Company, is based in North Andover, MA. Watts Quick-Connect Plumbing Solutions provides reliable, high quality, cost effective solutions for plumbing connection needs and offers a wide range of standard and unique quick-connect fittings, valves and manifolds.
You have successfully added from to your part list.
---