LCP (Telescoping Driver) Pneumatic or DC Electric
Product Announcement from Weber Screwdriving Systems, Inc.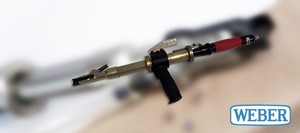 Weber handheld systems offer industry leading speeds and versatility to increase production and decrease operator fatigue. With a hand driver to suit almost any application, Weber has you covered.
LCP Hand held "Telescoping" System ( Pneumatic or DC Electric)
The Weber LCP hand held systems were designed in response to a request by customers for a simple non-self advancing product that would be suitable for the window and door industry as well as many markets that did not need the sophistication of the HSE or HSP products. This is a simple telescoping "push to start" style device that simply installs fasteners reliably and quickly.
The system has an option for to depth control instead of using torque shut-off or stall. This is great for sheet metal, thin materials, natural woods, and many other unfriendly non uniform or consistent styles of application surfaces. Customization is performed on most systems to ensure the utmost functionality for each fastener size and style. The tool or motor on the unit can be air or electric and can range from a simple stall motor to the most advanced DC electric torque and angle device. This unit can be mated to a customer supplied tool allowing similarity between power units in your assembly plant. The LCP also comes with the option for a pistol grip for horizontal operation.
---