Product Announcement from Welch Fluorocarbon, Inc.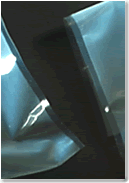 Heat sealing is the thermal fusion of two (or more) melt-bond compatible thermoplastic materials. All heat seals require the precise control of heat, time, and pressure to create a quality weld. Thermal Impulse heat sealing is the process of welding thermoplastic films together by means of a resistance ribbon(s) through a cycle of heating and cooling under pressure. By controlling the rate of heating and cooling superior welds are created without sacrificing the physical property values of the original film. Thermal impulse techniques are used to make bags, lay flat tubing, medical packaging, large panels, protective garments, heat exchangers, geodesic domes, and other unique shapes that solve specific problems.
Heat Sealed Fluoropolymer Properties
Chemical Inertness - sampling bags & container liners
Low Permeability - gas sampling bags
Resilience to Weather - environmental chambers
Optical Clarity - solar collectors
Temperature Resistance - cryogenic bags -400ºF to 400ºF
Releaseability - rubber & silicone encapsulated gaskets
Dielectric Properties - electrical resistance
Flammability - non-combustible human escape hoods
Heat Sealed Characteristics
Seal length - Unlimited
Seal widths - 1/8", 1/4" and 3/8"
Seal types - Fin seam, Overlap seam, Butt seam
Configurations - Lay-flat bags, cubical enclosures, tank liners, protective hoods, and lay-flat tubing. A wide variety of shapes can be produced, including heat sealing flat sheets to thermoformed parts or heat sealing thermoformed parts to themselves.
Heat Sealed Film Options
Teflon® FEP Film & Teflon® PFA Film
Norton® FEP & Norton® PFA
Modified PTFE
Aclar® & Clarus® PCTFE
Tefzel® ETFE
Norton® ETFE
Kapton® PI
PEEK
Tedlar® PVF
You have successfully added from to your part list.
---