Weldon P175 CNC Punch Grinder
Product Announcement from Weldon Solutions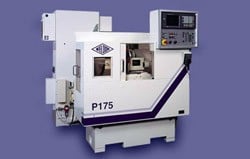 The Weldon P175 CNC Punch Grinder has been specifically designed for non-round grinding of small parts such as pharmaceutical, sheet metal and forming punches. This extremely stiff, compact machine is manufactured with a 7" swing capacity and 7" distance between centers. Weldon has packaged the technology required to meet the stringent criteria associated with punch grinding. As a high precision machine, the P175 is capable of round as well as non-round parts grinding. It can easily grind simple or complex shapes to close tolerances with little setup. The P175 is fully equipped with all of the components and tooling necessary to help you meet your difficult punch grinding requirements. This dedicated package, combined with Weldon's extensive punch grinding experience, make it the ideal choice for companies looking for ways to improve throughput and increase profitability
EZPUNCH Simplifies the Grinding of All Your Complex Parts EZPUNCH software is the Weldon solution to more productive grinding of pharmaceutical punches, sheet metal punches, forming punches and other complex parts up to 1.75" in diameter and without any length to width limitations.
EZPUNCH is simple, fast, straightforward programming software that enables your operator to describe flexible non-round convex shapes with up to six sides, and equilateral polygons up to 12 sides using 14 basic shapes.
EZPUNCH is easy because it communicates in a language your operator can understand quickly without previous programming experience. With minimal training the operator can interact with the system to create the desired grinding program.
And for more versatility, EZPUNCH gives you the option to grind the workpart from either a round blank or a preformed shape.
EZPUNCH Gives You More:
Can define any polygon, regular or irregular, up to 6 sides
Operator can modify process parameters
Has centerline offset capability
Radii, arcs and blends are completely CNC generated
Greater programming speed and flexibility off-line on a PC
Creates a standard G and M code program
Import any drawn shape using DXF
Features
GE Fanuc model 21i TB CNC Control with Color LCD
Cast iron machine base
Vee & flat pressurized way system
Servo work drive
Hydrodynamic wheel spindle bearings
Power operated tailstock
14" by 2" wheel guard capacity
Full enclosure
Variable speed wheel drive with dynamic braking
Work area lighting
Workhead mounted diamond adapter
Monlan fabric style coolant filtration system
Heavy duty live spindle programmable workhead
X axis scale
Adaptive feed control
You have successfully added from to your part list.
---