Product Announcement from Wellman Furnaces, Inc.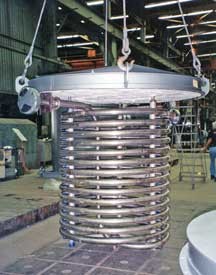 Wellman has designed and built numerous Radiant Coil Furnaces for many different applications including:

• Heating air at 550 psig to 1700°F

• Heating a mixture of natural gas and steam to 1000°F at 3100 psig.

• Heating an acid to 1400°F (760°C) to catalyze a chemical reaction.

• A four-coil unit, having a total heat capacity of almost 2.0 MW, to heat a process • chemical to 1040°F (560°C) at 700 psig.

• A two chamber system for the supercritical oxidation of organic material in waste water (SCWO) using a unique alloy to minimize corrosion at 4050 psig and 425°C.
Radiant Coil Furnaces are ideal for the process heating of liquids and gases to high temperatures over a wide range of operating pressures, where the combination temperature and pressure make heating techniques practical.
We Design, Build and Install Heat Processing Systems Worldwide
Where Tradition Meets Innovation . . . . .
Wellman Furnaces, Inc. brings innovation together with the ability to engineer, design and build the answer to your heat processing problem. We offer our customers years of experience in the custom engineering of fuel fired and electrically heated furnaces and heat processing systems. Also, we are able to offer engineering services for the evaluation of equipment alternatives, process engineering and thermal analysis.
Wellman's roots can be traced to the General Electric Company's Industrial Heating Department which moved its operation from Schenectady, New York, to Shelbyville, Indiana, in 1955. In 1979, Wellman plc, a British company, purchased the Shelbyville operations from GE, renamed it Wellman Furnaces Inc. and retained all personnel for the design, manufacture and marketing of Industrial Heating Equipment. In 1988, the business was sold to the managers of the Shelbyville facility, who ran the Furnace company along with seven other purchased Wellman companies until 2003.
In 2003, Wellman Furnaces, Inc.'s ownership changed to its current status under Precious Technology Group, LLC. Precious Technology Group has transitioned Wellman Furnaces, Inc. into a versatile and capable entity able to carry on the responsibility entrusted to us by our customers.
Wellman serves a variety of customers, including users and E&C's, in a broad range of industries. We have worked closely with many US firms and have had extensive international experience dealing with customers in places such as Canada, China, Europe, Egypt, India, Japan, Mexico, Saudi Arabia, South Korea, and Thailand.
Products & Services:
Wellman Furnaces offers it customers years of experience in the custom engineering of fuel fired and electrically heated furnaces systems.
Wellman utilizes "Concept to Completion" expertise to meet your heat processing requirements. Our team begins by carefully analyzing our application. From here, we engineer a practical concept using proven components. The equipment is then manufactured in our Fairland, Indiana, factory by experienced furnace builders. Finally our seasoned field service engineers complete the project by installing and starting up the equipment.
Wellman's broad experience in building Roller Hearth Furnaces includes direct-fired and atmosphere furnaces for temperatures to 2100°F (1150°C). Fuel-fired or electrically heated designs are available.
These furnaces are ideal for lamination annealing, tube annealing and many other processes. For example, a successful Roller Heath line was provided for reheating molybdenum and tungsten sheets for rolling. It features a unique pulse-fired combustion system.
We offer a wide line of hump type and straight through mesh belt furnaces and ovens for continuous blackening, brazing, annealing and sintering of light parts or assemblies in controlled atmospheres.
Belt widths range from 12" to 92" for processing temperatures up to 2100°F (1150°C). Silicon carbide, ribbon or tubular heating elements are available along with direct heated or muffle type designs. Water-jacketed coolers are shipped as complete sections. Air jet coolers can be provided for final cooling.
For reheating in a controlled atmosphere before subsequent forging operations. Also used for hardening, stress relieving and annealing.
Wellman Rotary Hearth Furnaces are useful for a number of processes including forging and forming, hardening, tempering, stress relieving and annealing. Units can be direct-fired or engineered for a controlled atmosphere with your choice of gas or electric heating. Temperature range to 2300°F (1260°C).
Precise indexing of the rotary hearth on Wellman designs is accomplished through a rack and pinion system and variable speed drive. Manipulators or custom designed load/unload equipment can be supplied.
Used for continuous hardening, tempering and annealing of irregular and randomly spaced loads such as forgings, casting and fasteners.
Used for annealing, brazing, stress relieving, oxide reduction and sintering. Vacuum or controlled atmospheres are available.
Car Bottom Furnaces can be provided for annealing, normalizing and stress relieving bars, tubes, forgings, large weldments and castings and can be gas fired or electrically heated with either guillotine or bulk head doors. Sand or pneumatically operated mechanical car seals are available.
Tip-Up Furnaces are used where better atmosphere control and temperature uniformity are necessary. Alternate load/unload methods are available.
Whether your need is for continuous or batch process, small or large load, long or short cycle, fixed or variable process, electric or fuel-fired, Wellman has the expertise to engineer, design and build it. Our record proves it. We have provided custom heat processing solutions for tough applications all over the world.
Wellman Furnaces, Inc. offers a complete line of Exothermic Gas Generators for rich and lean operation. Standard sizes range from 750 SCFH to 30,000 SCFH. Refrigerated Gas Coolers can be provided to reduce the product gas dewpoint to the 40°F to 50°F range. Atmosphere Gas Analysis Panels are available to monitor the exo gas composition and control an optional trim valve in the burner fuel gas line to maintain the desired CO analysis.
Radiant Coil Furnaces are ideal for the process heating of liquids and gases to high temperatures over a wide range of operating pressures, where the combination temperature and pressure make heating techniques practical.
Wellman Furnaces is a source for all types of electric heating elements, devices and systems including those listed below. In particular, we can supply you with replacements for electric heaters and associated control panels previously manufactured by Wellman Thermal Systems and the General Electric Company.
Wellman has the capability to work with Clients who have a concept for a process or system which requires the design of practical equipment for commercialization. We can do the necessary thermal and mechanical analyses, mass and energy balances and design and/or size the basic necessary components and integrate them into a workable system.
Wellman Furnaces has an experienced engineering staff capable of providing customers with practical solutions to their thermal processing and industrial heating problems.
These services include:
•Evaluation of Equipment Alternatives
•Thermal FEA Analysis
•Concept Development & Evaluation
•Thermal Process Modeling and Evaluation
•Final Design Development
Replacement Parts,Service & Rebuilds
Wellman offers replacement parts and service for the complete history of GE and Wellman Furnaces. We also offer critical furnace parts for a variety of competing furnaces.
You have successfully added from to your part list.
---