Product Announcement from Weschler Instruments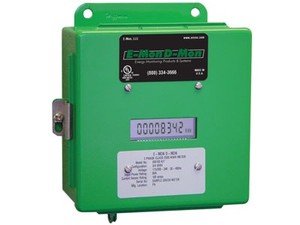 Weschler Instruments - Reducing energy consumption is a federal mandate for many projects and can result in significant cost savings. The E-Mon D-Mon Energy Meters are an effective way to monitor energy use within a commercial and industrial building. Single phase and three phase units accommodate circuits up to 3200 Amps. Split core current sensors speed retrofit installation.
An E-MON meters can be used stand-alone or tied into a data network. Wireless remote monitoring is also available.
Sub-metering allows billing of tenants or departments based on actual energy use. This requires an energy meter connected to each circuit. For this application, E-MON offers a compact cabinet that holds up to 24 digital meters. The Multiple Meter Unit simplifies meter reading and occupies significantly less space than the traditional glass jar meters used by utilities.
E-Mon D-Mon Three Phase Energy Meters features:
Direct-read 8-digit LCD display without multiplier displays accumulative kWh & "real-time" kW load
User entered cost per KWH provides to-date energy cost & projected hourly cost based on Metered load
Displays total carbon (CO2) emissions in pounds (lbs.) & indicates hourly emissions based on Metered load
Utility Grade Metering accuracy
Split-core current sensors install without power interruption, promote enhanced safety and allow remote mounting up to 2000 feet from Meter
Current sensor installation diagnostic indicator
Parallel up to three sets of current sensors for cumulative reading
Industrial-grade JIC steel enclosure with padlocking hasp and mounting flanges for indoor installations
Optional removable terminal block for pulse output
Non-volatile memory
UL Listed/CSA approved, made in USA
Certified to ANSI C12.1 and C12.16 electronic Meter National Accuracy Standards
Certified to California Metering standards Bureau of Weights and Measures
New York City approved, Con Edison approved for RSP program
Net Meter (GN Model) adds:
Direct-read 8-digit LCD display of:
Delivered kWh
Net kWh
Received kWh
Real-time kW load
Load profile data of delivered kWh, delivered kVARh and received kWh along with real-time readings of Power Factor, kW, kVA, kVAR, Amps per phase, Volts per phase and Frequency (available via E-Mon Energy software)
RS-232/RS-485 Communication
Optional Telephone Modem, Ethernet & Modbus
Listed as eligible system performance Meter by California Solar Initiative Emerging Renewables Program
You have successfully added from to your part list.
---