Xylan Coatings for the Offshore market
Product Announcement from Whitford Corporation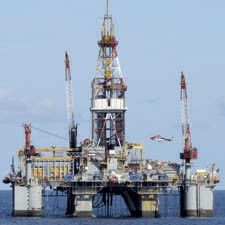 Xylan coatings offer a wide range of important benefits, especially for offshore petrochemical markets. These include resistance to corrosion and chemical attack, superb subsea visibility, anti-galling, lower maintenance costs, less downtime, etc. Xylan coatings have been the first choice of engineers in the petrochemical industry for more than 40 years.
Xylan 1014, one of a thousand formulations, is a resin-bonded PTFE, thermoset, dry-film lubricant designed for conventional spray techniques. It is primarily used on studs and bolts to prevent corrosion and facilitate make-up torque.
Because of its predictable, low-friction properties, less "make-up" torque is required to produce the specified tension. During assembly, clamp loads are increased; "scatter" is reduced.
Friction values are predictable and significantly enhance conventional surface treatments such as phosphate and platings. The low-friction properties also reduce "break-out" torque, which allows removal of bolting with a wrench instead of a blowtorch.
---