Product Announcement from Wilbrecht LEDCO, Inc.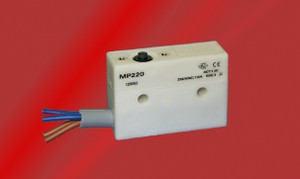 Microprecision is introducing a variation of its industrial high current switches of the MP200 series. The new MP220 has a single pole double break electrical circuit, which allows to double break two independent electrical circuits up to 10A/250VAC. The MP220 uses a fast snap action mechanism to change from break to make position. The switch in its standard version is currently IP67 sealed, an improved sealing for IP68 applications with a strengthened cable exit is also available.
Wilbrecht LEDCO, Inc., a subsidiary of Microprecision Electronics SA has over 50 years experience manufacturing customized precision electro-mechanical components for machinery, aerospace, military, medical and telecommunications applications at its facilities in the United States and Switzerland. Our product range includes very precise Sealed Snap Action Switches, Sealed Miniature and Sub-Miniature Switches, Limit and Security Switches, LED Panel Mount Indicators, Incandescent/Neon Panel Mount indicators, PCB-Mount LED's and ultra low TCR Metal Foil Resistors (through-hole and surface mount).
Our products excel in precision, quality and design - your solution for very demanding applications.
Products:
Microswitches and Limit Switches
Wilbrecht LECDCO, Inc., offers a large range of microswitches under the Microprecision brand. We offer up to IP68 protection against dust and liquid intrusion. Our RoHS compliant microswitches have outstanding mechanical life cycles and small differential travel, with superior quality and performance characteristics.
Panel mount LED and Indicator Lights LED
Wilbrecht LEDCO LED Indicators lights meet the highest standards for quality and consistent uniformity including RoHS compliant components. LEDCO offers vertically integrated design, engineering, manufacturing, and assembly capabilities. In addition to industry standard assemblies, LEDCO can work with you from product concept to production for special applications. LEDCO bar products offer design flexibility without tooling charges. Virtually any combination of colors and LED type can be assembled to your specifications.
Wilbrecht LEDCO's metal foil resistors are constructed to consistently meet strict low temperature coefficients (TCR) and tight absolute tolerances. All resistors are manufactured and trimmed to the exact value required by our customers. Designed for the most demanding environments, applications include military, aerospace, oil field data-logging, commercial flight navigation systems, automated IC test equipment, high end audio equipment and precision instrumentation. All production is documented to QPL standards. For complete specifications, please refer to the documentation below.
For more information, contact Wilbrecht LEDCO, Inc., St. Paul, MN at 651-659-0919 or toll-free at 888-323-8751. Email: info@wilbrechtledco.com This e-mail address is being protected from spambots. You need JavaScript enabled to view it .
You have successfully added from to your part list.
---