Product Announcement from Wilks Enterprise, Inc.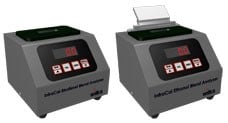 The trend toward alternate fuels which has resulted in an increase of biodiesel and ethanol production. Many countries have developed or are developing biofuels programs. Since tax incentives and government regulations are often based on % biofuel, it is important to have an accurate measurement system.
The InfraCal Ethanol and Biodiesel Blend Analyzers are rugged, compact, portable and easy to use analyzers for non technical personnel. They provide a direct readout in either % ethanol or % biodiesel giving the user the capability to measure the blend ratio on site at a service station or manufacturing/distribution facility in less than a minute.
The InfraCal Analyzers are fixed filter infrared analyzers that, unlike an FTIR spectrometer, have no moving parts and an insignificant optical air path. They utilize the same technology as EN 14078 and ASTM D7371.
InfraCal Blend Analyzers are portable, rugged and suitable for use in a field environment. Weighing less than 5 lbs. They can be operated from a battery pack or a cigarette lighter adapter cable. An internal calibration table and easy-to-use operator interface allows for analysis by non technical personnel. An internal calibration table in the analyzer allows for a digital readout in either % ethanol or % biodiesel.
For further information on the use of the InfraCal Analyzers for measuring the biofuels blend ratio, please contact: Wilks Enterprise, Inc., 25 Van Zant Street - Ste. 8F, E. Norwalk, CT 06855 USA, TEL: 203-855-9136, FAX: 203-838-9868, Email: srintoul@wilksir.com, Web Site -- www.wilksir.com or download the information directly at http://www.wilksir.com/pdf/BiofuelsBlend-InfraCal.pdf.
You have successfully added from to your part list.

Play Ethanol and Biodiesel Fuel Blend Analyzers Video
---