Product Announcement from Wilks Enterprise, Inc.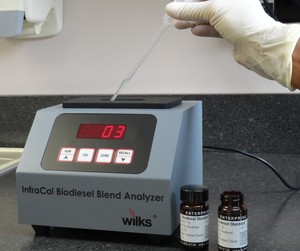 Wilks Enterprise - Since current tax incentives and government regulations are based on % biofuel, it is important to have easy-to-use measurement systems to ensure proper blend ratios. With the new portable InfraCal Biodiesel Blend Analyzer, from Wilks Enterprise, accurate blend ratio measurements can be obtained in under a minute.
The InfraCal Biodiesel Blend Analyzer is rugged, compact, and easy to use by fleet managers, distributors, or regulators. It reads out directly in % biodiesel and provides the user with the capability to quickly measure the blend ratio on-site. Its measurement range is 0 to 100% with an accuracy of +/- 0.20 % and can be operated by personnel having little or no knowledge of infrared analytical techniques.
The InfraCal Analyzer is a fixed filter infrared instrument that, unlike an FTIR spectrometer, has no moving parts and an insignificant optical air path. This makes it portable, rugged and ideal for use in a field environment. It weighs less than 5 lbs. and can be operated from a battery pack or a cigarette lighter adapter cable. An internal calibration table allows the InfraCal Analyzer to provide a digital readout directly in % biodiesel.
For further information on the InfraCal Biodiesel Blend Analyzer contact: Wilks - A Spectro Inc. Company, 25 Van Zant Street, Ste. 8F, E. Norwalk, CT 06855 TEL: 203-855-9136; FAX: 203-838-9868; Email: info@wilksir.com; or the information can be downloaded at http://www.wilksir.com/pdf/BiofuelsBlend-InfraCal.pdf or visit the Wilks website: www.WilksIR.com.
You have successfully added from to your part list.
---