Product Announcement from Wilks Enterprise, Inc.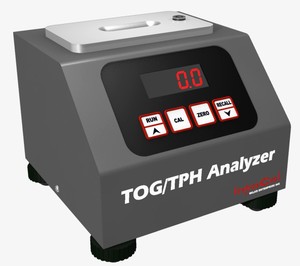 InfraCal IR Platform Analyzer, Model HATR-T2
This model is recommended for measuring TOG, TPH or FOG concentration levels when using hexane, pentane or Vertrel MCA as the extracting solvent. Measurement data obtained with this analyzer will correlate to EPA Method 1664 as both procedures are based on evaporation techniques and measuring the residual oil and grease. The analyzer is equipped with a built-in cubic zirconia horizontal attenuated total reflection (HATR) stainless steel sample stage. Analysis time, including extraction procedure, is typically 10-15 minutes and it is accurate down to 8 ppm.
The InfraCal IR Platform Analyzer provides an easy, accurate, field-proven infrared analysis method for on-site measurement of total oil and grease (TOG) and total petroleum hydrocarbon (TPH) levels in water and soil samples as well as, fats, oil and grease (FOG) levels in water. It is portable (operable from a 12 volt dc power supply), weighs less than 5 lbs, is a 6 inch cube in size, and reads out directly in concentration level once it is calibrated. Its compact, rugged design has no moving parts requiring alignment or adjustment. And, user friendly operation makes it easy to use with minimal training. The Model HATR-T2 can read out infrared absorption values or it can be calibrated to display concentrations directly in any desired format such as ppm or milligram/kg.
For further information, contact: Wilks Enterprise, Inc., 25 Van Zant Street, E. Norwalk, CT 06855, TEL: 203-855-9136; FAX: 203-838-9868, Email: info@wilksir.com; Website: www.wilksir.com or download information directly at http://www.wilksir.com/oilgrease-analyzers/infracal-hatr-t2.html
You have successfully added from to your part list.

Play InfraCal IR Platform Analyzer, Model HATR-T2 Video
---