IR Vapor Analyzer for Onsite Gas Measurements
Product Announcement from Wilks – A Spectro Scientific Company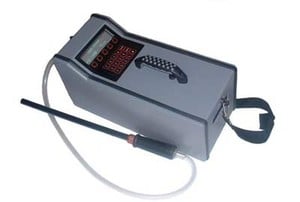 Wilks - A Spectro Scientific Company InfraRan Specific Vapor Analyzer is a single-beam infrared spectrometer designed specifically for easy, on-site ambient air measurements of a specific gas or gases. The analyzer can be factory-calibrated for most compounds that have an infrared absorption band in the 2.5µm to 14.5µm region. The analyzer utilizes infrared absorption filter photometry as its operating principle. The integral air pump draws the sample into the cell and the sample absorbs the infrared energy from the beam. The detector measures the amount of energy absorbed at the selected wavelength and the microprocessor converts it into concentration units (ppm or percent) which are read from the analyzer's vacuum fluorescent display. The optical filter is selected to enable the spectrometer to be specific for the specified gas.
The analyzer weighs 18 lbs. and with its internal battery power and is a truly portable instrument that can run up to 8 hours on its battery pack. It includes internal data logging for added measurement and record keeping convenience. No additional equipment is necessary since all supplies that are required for monitoring are self-contained.
The InfraRan Specific Vapor Analyzer is factory calibrated so that no chemical standards are needed by the user to calibrate the analyzer. It's user-friendly, menu-driven software and easy-to-read display prompt the user through all aspects of the analysis - enabling both non-technical personnel, as well as those with an infrared gas analysis background, to make fast, accurate measurements.
It provides a reliable, maintenance-free method for dedicated monitoring as its design combines a hardware/electronic/software package with a measurement principle that can be easily applied to meet a variety of application needs. The analyzer does not require the use of any consumable items other than zero gas and particulate filters, which eliminates the need for purchasing a large quantity of other supplies to keep the InfraRan Analyzer operable.
For further information, contact: Wilks Enterprise, Inc., 25 Van Zant Street - Ste. 8F, E. Norwalk, CT 06855, TEL: 203-855-9136; FAX: 203-838-9868, Email: info@wilksir.com; Website: www.wilksir.com or download information at http://www.wilksir.com/products/specific-gas-analyzers.html.
You have successfully added from to your part list.
---