Portable IR Gas Analyzer for Isoflurane
Product Announcement from Wilks – A Spectro Scientific Company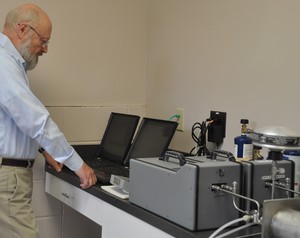 Wilks - A Spectro Scientific Company - A portable, mid-infrared specific vapor analyzer, designed for easy, on-site measurement of Isoflurane, is available from Wilks. The InfraRanTM Specific Vapor Analyzer provides on-site, real-time measurements of Isoflurane in the 0-50 parts per million (ppm) concentration range with resolution of less than 1 ppm. The analyzer is ideal for use in hospital operating and recovery rooms, as well as intensive care units where it is being used for pain management. The InfraRan Specific Vapor Analyzer helps to safeguard against personnel and patients being exposed to potentially high levels of Isoflurane which may have a toxic effect.
The InfraRan Specific Vapor Analyzer has been designed to be a rugged, field portable instrument, weighing under 18 lbs. It is ideal for both on-site survey studies and laboratory analyses. The analyzer is factory calibrated for Isoflurane and operation is user-friendly via menu-driven software enabling both non-technical personnel and certified industrial hygienists to obtain easy, accurate measurements. The InfraRan Specific Vapor Analyzer has a internal rechargeable battery for up to 8 hours of continuous field use or it can be operated from a 110/220V power source.
For further information on the new InfraRan Specific Vapor Analyzer for measuring Isoflurane, contact: Wilks - A Spectro Scientific Company., 25 Van Zant Street - Ste. 8F, E. Norwalk, CT 06855, TEL: 203-855-9136, FAX: 203-838-9868; Web site: www.wilksir.com or download information at http://www.wilksir.com/products/specific-gas-analyzers/infraran-anesthetic-gas-analyzer.html
You have successfully added from to your part list.
---