Product Announcement from Wilks Enterprise, Inc.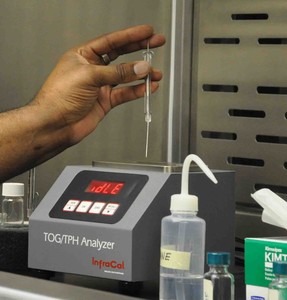 Wilks Enterprise, Inc. - InfraCal TOG/TPH Analyzers let you quickly and easily analyze the oil and grease concentration level in water and soil.They are ideal for measuring oil content in produced or FRAC water, fats, oil & grease (FOG) in wastewater, industrial or refinery wastewater effluents, drill cuttings, containment ponds andremediation sites. Accurate, on-site measurements take just 10 -15 minutes, including the extraction process. On-site measurements eliminate the need to wait for off-site lab results and the analyzers are ideal for use by non-technical personnel.
InfraCal analyzers use infrared technology based on DTI, EPA and ASTM methods. Models are available for use with a wide variety of extracting solvents such as hexane, pentane, Vertrel MCA, Freon, a hydrocarbon-free grade of perchloroethylene, S-316 or AK-225. When using solvents that contain hydrocarbons (i.e. hexane and Vertrel MCA), the InfraCal Model HATR-T2 is the recommended analyzer. When using an infrared transparent solvent, the InfraCal Model CVH with a 10mm quartz cuvette cell is the usual instrument of choice.
All InfraCal analyzers are portable (operable from a 12 volt dc power supply) and weigh less than 5 lbs. Their compact, rugged design has no moving parts requiring alignment or adjustment and are ideal for on-site use at such locations as oil drilling platforms, shale gas wells, refineries, industrial plants, or wastewater treatment facilities. Pushbutton, user-friendly operation makes them easy to use with minimal training. The analyzers can read out in infrared absorption values or they can be calibrated to display concentrations directly in any desired format such as ppm or milligram/kg. A wide range of accessories, such as printer and carrying case increase the versatility and capabilities of the Infracal TOG/TPH Analyzer.
For more information on the InfraCal TOG/TPH Analyzers, or contact Wilks Enterprise, 25 Van Zant Street - Ste. 8F, E. Norwalk, CT 06855, TEL: 203-855-9136, email: info@wilksir.com; web site - www.wilksir.com or download information directly at http://www.wilksir.com/oilgrease-analyzers.
You have successfully added from to your part list.

Play Analyzers.. for Oil in Water/Soil - On-Site Video
---