Product Announcement from Wilks Enterprise, Inc.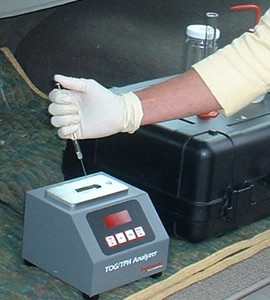 Wilks Enterprises - On-site analysis of total petroleum hydrocarbon (TPH) concentration levels in soil are easily handled using the InfraCal TOG/TPH Analyzers manufactured by Wilks Enterprise, Inc. The InfraCal TOG/TPH Analyzers are portable infrared (IR) analyzers that quickly determine TPH levels in less than 10-15 minutes, including the extraction. Concentrations as low as 10 ppm to well over 10,000 - 20,000 ppm can be easily and accurately measured. Models are available for use with various extracting solvents such as S-316, hexane and perchloroethylene. They are ideal for soil testing at remediation sites such as leaking underground storage tanks and produced water evaporation ponds.
Site managers can obtain on-site measurements and eliminate the need to wait for off-site lab results and save costly down time for remediation equipment.InfraCal TOG/TPH Analyzers are portable (weighing under 5 lbs and operable from a 12 volt power supply) and read out directly in parts per million (ppm) or mg/kg. Sampling requires a few simple steps and can be performed by non-technical personnel.For further information on the InfraCal TOG/TPH Analyzers for TPH in Soil Remediation,
please contact: Wilks Enterprise, Inc., 25 Van Zant Street, Ste. 8F, E. Norwalk, CT 06855, TEL: 203-855-9136; FAX: 203-838-9868; Email: info@wilksir.com; or the information can be downloaded from the Wilks website: http://www.wilksir.com/pdf/TPH_Soil%20_Remediation.pdf
You have successfully added from to your part list.
---