Portable IR Analyzer... Measures TPH in Soil
Product Announcement from Wilks – A Spectro Scientific Company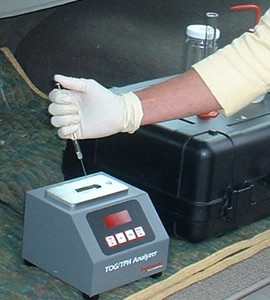 Wilks - A Spectro Scientific Company - On-site analysis of total petroleum hydrocarbon (TPH) concentration levels in soil are easily handled using the InfraCal Analyzers. The InfraCal Analyzers are portable infrared (IR) analyzers that quickly determine TPH levels in less than 10-15 minutes, including the extraction. Concentrations as low as 10 ppm to well over 10,000 - 20,000 ppm can be easily and accurately measured. Models are available for use with various extracting solvents such as S-316, hexane and perchloroethylene. They are ideal for soil testing at remediation sites such as leaking underground storage tanks and produced water evaporation ponds.
Site managers can obtain on-site measurements and eliminate the need to wait for off-site lab results and save costly down time for remediation equipment.InfraCal Analyzers are portable (weighing under 6 lbs and can be battery operated) and read out directly in parts per million (ppm) or mg/kg. Sampling requires a few simple steps and can be performed by non-technical personnel.For further information on the InfraCal Analyzers for TPH in Soil Remediation, please contact: Wilks - A Spectro Scientific Company., 25 Van Zant Street, Ste. 8F, E. Norwalk, CT 06855, TEL: 203-855-9136; FAX: 203-838-9868; Email: info@wilksir.com; or the information can be downloaded from the Wilks website: http://www.wilksir.com/applications/oil-in-water-soil-testing.html
You have successfully added from to your part list.
---