IR Analyzers - Flexible Film Analyses...Portable
Product Announcement from Wilks – A Spectro Scientific Company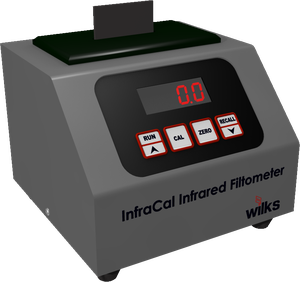 Wilks - A Spectro Scientific Company - With the worldwide market for flexible film packaging reaching upwards of $27 billion per year, there is a need for quick, on-site measurements to ensure a quality product. Typical analyses include determining thickness of core layer and proper lamination side on multi-layer films, verification of raw materials and film rolls, and formulation discrimination. Portable infrared analyzers, from Wilks Enterprise, can easily handle these analyzes on-site in the production area, on a loading dock or in a warehouse in a matter of minutes - eliminating the need to send samples to a laboratory and wait for results.
For a single, repetitive analysis such as measuring nylon, EVA or EVOH in a multi-layer film, the portable InfraCal Analyzers with a fixed filter/detector can determine the thickness of the barrier layer as low as 0.1 mil in under a minute. It eliminates the need for using potentially-toxic solvents and measurement data correlates directly to gravimetric values.
The InfraCal Filtometer is a compact, fixed-filter mid-infrared analyzer with no moving parts making it rugged and portable. Measurements can be taken where they are needed, in the production area, on a loading dock or in a warehouse as well as in the laboratory.
Polymers such as Nylon, EVOH, EVA, and polyethylene have characteristic absorbances in the mid-infrared range that can be used for material identification or for quantitative measurements. For analysis, a film is placed on a card and the card is inserted into the analyzer. A beam of infrared light is passed through the sample and the infrared absorbance is measured. As the layer increases in thickness the absorbance increases. An internal calibration table converts the absorbance to the desired unit of measure. The easy-to-use operator interface allows for analysis by non-technical personnel.
The new InfraCal 2 Analyzer is ideal for applications that require more than one calibration. In addition to the multiple calibration option, the InfraCal 2 Analyzer with its touch screen display offers more user options including password protected calibrations and instrument settings, data storage and transfer, alarm functions and the option for more than one wavelength.
For further information on the InfraCal Analyzers for flexible film measurements, please contact: Wilks - A Spectro Scientific Company., 25 Van Zant Street, Ste. 8F, E. Norwalk, CT 06855 USA, TEL: 203-855-9136, FAX: 203-838-9868, Email: srintoul@WilksIR.com,
Web Site -- www.WilksIR.com or http://www.wilksir.com/products/applicationspecificanalyzers/barrier-layers-in-multi-layer-films.html#application
You have successfully added from to your part list.
---