Product Announcement from Wintec Industries, Inc.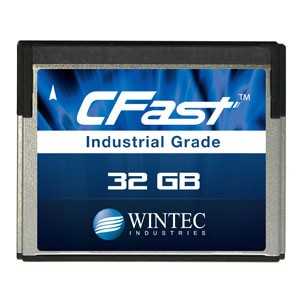 CFast is a technology built upon the basics of standard Compact Flash cards. CFAST is gaining the interest of design engineers to be included on next generation platforms because the CFast rapid SATA interface offers a solution that can eliminate data bandwidth bottlenecks in industrial applications. CFast paired with SLC NAND Flash can also increase overall system performance and raise the level of reliability.
CFast is well suited for industrial environments, such as: military, mining applications, network equipment, monitoring equipment, surveilance systems, POS systems, and gaming systems, because of it's robust form factor, industrial grade components, and no moving parts. Wintec CFast cards are offered in Industrial I-Temp (-40°C to +85°C), and Enterprise (0°C to +70°C) versions when paired with SLC Flash, in addition to a Commercial Grade version that is paired with MLC Flash. All Wintec CFast cards are manufactured and programmed under strict locked BOM and firmware specifications.
Product Features:
General
CF Card Type SATA-II
Density 4GB - 64GB
SLC / MLC
Power Supply (3.3Vcc +/-5%)
Specialized for High-Reliability
SATA-II 3.0Gbps interface backward compatible w/ SATA-I 1.5Gbps
RoHS 6/6
Reliability
Industrial Wear leveling - includes Static Block Management
Data Integrity under power-cycling
High reliability with built in ECC
Harsh Environment Tolerance
10-year Date Retention and with Unlimited Reads
Low Power Consumption
Industrial I-Temp -40°C to +85°C
Enterprise/Commercial Temp 0°C to +70° C
No moving parts
You have successfully added from to your part list.
---