PST StabiliZR™ Pressure Gauge - Water/Waste Water
Product Announcement from Winters Instruments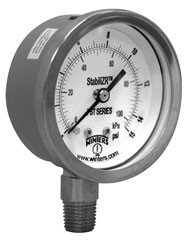 Control the Effects of Vibration with Winters StabiliZRTM Gauges
Technology dampens vibration without the need for liquid filling, so you receive accurate pressure readings from a flutterless pointer
No need for draining makes for a no-mess, easier recalibration
Reduced pointer flutter extends the life of the gear and pressure gauge
The Winters StabiliZRTM Solution
StabiliZRTM gauges are dry gauges that come with a StabiliZRTM movement that virtually eliminates pointer flutter that is caused by vibration. This also extends the life of the gauge when compared to a regular dry gauge, and makes pressure reading easy. Gone are the worries of leaking fill fluid and possible compatibility issues with the process media. Gauges can be recalibrated without the hassle of draining and then refilling the case with fluid.
Description & Features:
StabiliZR™ dampened movement minimizes effects of pulsation and vibration without liquid filling (flutterless pointer)
Restricted orifice standard on dual scale (optional on single scale)
Crimp-on bezel
Brass internals
Dual scale (psi/kPa)
U-Clamps and front flanges for panel mounting
CRN registered
5 year warranty
Applications:
Ideal for pumps, compressors, hydraulic presses, machinery and motors that operate in harsh environments
Download specifications and order info
You have successfully added from to your part list.
You need Flash player 8+ and JavaScript enabled to view the PST StabiliZR™ Pressure Gauge - Water/Waste Water video.
Get the Latest Flash player.
---