Fluid Bed Dryer, Cooler, Classifier...your specs
Product Announcement from Witte Company, Inc. (The)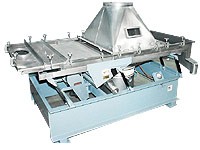 The Witte Company 400 Series is a combination classifier with Dryer/Cooler capabilities that quickly cools plastic pellets using ambient air.
Air Classification - almost total removal of any minus 20 mesh "fines" including those statically held as well as the removal of any "ribbons," "streamers" or "angel hairs."
Cooling - pellets can be quickly cooled from 220 degrees F to 120 degrees using 90 degree ambient air.
Surface Drying - residual surface moisture up to 2% can be removed using ambient air if the pellet temperature is 200 degrees F or higher. Lower pellet temperatures may require heat. Note: These units are capable of drying nylon down to 0.05% immediately after pelletizing.
Chip Removal - any remaining larger "fines" would be removed using a wire mesh screen.
Oversize Removal - our traditional perforated deck would, finally, remove any "oversize."
In addition, Witte now offers a combined 400 series Dewaterer/Dryer/Cooler/Classifier in a single unit. This is ideal for friable, glass filled resins or products that cannot be run on a spin dryer.
Ideal For:
Nylon
Polyethylene
Polystyrene
Polypropylene
Polyvinyl chloride
Polyesters
Polyurethanes
Friable, glass-filled and micropellets
and other resins
You have successfully added from to your part list.
---