Large Frame, Stone Slab Power Tilter
Product Announcement from Wood's Powr-Grip Co., Inc.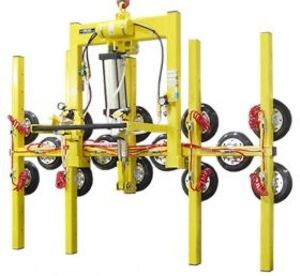 Equipped with powered 90° tilt, movable pad mounts and individual pad shutoffs, this economical vacuum lifter from Wood's Powr-Grip offers maximum versatility for handling stone and other high-density materials, including those with rough surfaces or irregular shapes. Various load shapes and sizes are no problem for this vacuum lifter, as individual vacuum pads can be turned off when they are not needed. If a load's edges do not reach the outermost pads on the lifter, or if a hole or cutout is located where a pad would normally attach, simply turn off the unused pads individually to match your load's size and shape. If this would lower the lifter's capacity below that needed to lift the load, movable pad mounts allow for many different configurations, so you can reconfigure the lifter to fit the load. Both of these capabilities make the vacuum lifter an economical choice considering the money you'll save by purchasing one vacuum lifter that can do the job of several machines. Made for porous stone surfaces, this vacuum lifter also features closed-cell foam rings on its vacuum pads, giving them the ability to mold around and grip rough surfaces, as well.
FEATURES:
Green Lift Light indicates when vacuum level is sufficient for lifting maximum load weight -
Operator can visually identify when lifter is ready to lift at maximum capacity safely


Vacuum Gauge enables monitoring of vacuum levels in positive inches of HG and negative kPa -
Operator can visually determine whether vacuum level is adequate for lifting safely


Vacuum Reserve Tank helps prevent immediate vacuum loss in case of power failure -
This helps prevent unexpected load release and allows for careful release of load if power fails


Vacuum Line Filter prevents contaminants from blocking vacuum lines or damaging valves & pump -
Helps to prevent vacuum system failure and unnecessary damage to equipment


Spring Mounted Vacuum Pads allow pads to adjust orientation to match angle of load surface -
Promotes ease of performance when attaching to loads


Closed-Cell Foam Rings for attaching vacuum pads to materials with rough/textured surfaces -
Enables one lifter to handle materials with different surfaces - adds versatility to handling and saves money on equipment


Vacuum Pad Shutoff Valves allow for versatility in load size -
Enables one lifter to handle many different sized loads, adds convenience and saves money on equipment


Adjustable Control Valves for tilt speed adjustment -
Increases productivity by enabling lifter operator to set a prudent pace when tilting materials
You have successfully added from to your part list.
---