Materials Handling—Vacuum Lifting Equipment
Product Announcement from Wood's Powr-Grip Co., Inc.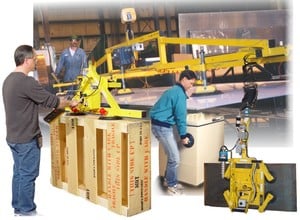 Today's materials handling professionals depend on the right tools and equipment to meet their productivity goals and deliver high-quality customer service. That's why Wood's Powr-Grip® is pleased to offer a broad range of hand-held vacuum cups, below-the-hook vacuum lifters, and other products that are specifically designed to make materials handling more efficient. Their products utilize the power of vacuum to lift, maneuver and transport a wide variety of raw materials, such as wood, concrete, sheet metal, plastic and laminates, as well as finished products, such as garage doors, windows, counter tops, auto body panels and vending machines. Flexible rubber vacuum pads used in Powr-Grip products attach securely to the materials, without harming most surfaces. Powr-Grip's vacuum cups put handles wherever they are needed for ergonomically correct lifting of awkward, bulky items. Unlike some other attachments for cranes, hoists and forklifts, Powr-Grip's below-the-hook vacuum lifters provide a convenient and secure way to move materials, with little risk of damage. Whether for warehouse operations, production facilities or delivery services, materials handling is faster and easier with hand-held vacuum cups, below-the-hook vacuum lifters and other products by Wood's Powr-Grip.
Hand-Held Vacuum Cups
Wood's Powr-Grip vacuum cups help you move production materials, hard-to-handle appliances and other awkward loads, while protecting the material's surface from damage. These hand-held vacuum cups employ the force of atmospheric pressure to grip a surface: A finger-operated vacuum pump removes the air from between the load and the rubber vacuum pad; atmospheric pressure then holds the vacuum cup in place with incredible force. Powr-Grip vacuum cups are used to carry office furniture, big-screen TV's, glass, stone, Corian® or nearly any material with smooth, nonporous surfaces. Their wide variety of standard vacuum cups includes models with flat vacuum pads, for quick attachment to flat surfaces, and models with concave vacuum pads, for effective attachment to curved or textured surfaces. With diameters from 1-1/4 to 10 inches [32-254 mm], Powr-Grip vacuum cups are available for virtually any materials handling application. Whatever the job is, you can work with confidence because Powr-Grip's patented red-line indicator shows when a vacuum cup is securely attached to the material and will alert you if the vacuum level decreases.
Below-the-Hook Vacuum Lifters
More versatile than magnets and faster than clamps or slings, below-the-hook vacuum lifters from Wood's Powr-Grip are a reliable, efficient and ergonomic means of handling materials. These AC, DC or air-powered vacuum lifters move heavy objects with the aid of forklifts, cranes or overhead hoists. Among the many kinds of loads handled by vacuum lifters are windows, doors and modular construction panels, siding, exterior cladding and corrugated roofing; plastic sheets, laminates and injection-molded components; glass, Plexiglass®, stone, and solid surfacing materials, I-beam and sheet aluminum, steel and other metal stock; automotive windshields, side lites and back lites; auto and truck body panels, and machine enclosures; office furniture, appliances and much, much more! Wood's Powr-Grip manufactures a full line of vacuum lifters, including rotators, tilters, rotator / tilter combinations, flat and vertical lifters with standard load capacities to 3000 lbs [1360 kg].
The wide variety of vacuum lifters from Wood's Powr-Grip ensures that one is ideal for every application within the materials handling arena: Their Multipurpose Vacuum Lifters are used in handling hockey rink panels and in pool table fabrication, or just about any application involving installation or low-volume fabrication. Powr-Grip's flat lifters are indispensable for loading sheet metal on plasma cutters or CNC machinery, as well as for handling plywood or OSB in furniture production. Installing armored windshields and handling truck body panels on the production line are just two of the many applications for Powr-Grip tilters. Their rotators are used to turn glass and stone slabs on edgers or other vertically oriented production machinery. Powr-Grip rotator / tilters can maneuver materials easily between storage racks and cutting tables or perform operations requiring unlimited load manipulation. Finally, their vertical lifters offer an ideal solution for moving glass and other materials in the upright orientation.
When compared with other materials handling methods, Powr-Grip vacuum lifters reduce business costs and increase productivity in a variety of ways: A vacuum lifter usually requires just one person to handle a load, reducing the cost of labor. Since the load is supported by hoisting equipment rather than the worker, Powr-Grip vacuum lifters also reduce fatigue and strain associated with manually lifting heavy, awkward loads. In turn, this reduces the costs of injuries and lost time. These vacuum lifters attach to the face of materials, virtually eliminating load damage to corners and edges. Attaching to the load's face also speeds operations such as loading materials on production machinery or packing crates, by leaving edges free from slings or other encumbrances. By enabling workers to handle loads securely and efficiently, Powr-Grip vacuum lifters often result in increased worker satisfaction and greater productivity.
Other Materials Handling Products
In addition to hand-held vacuum cups and below-the-hook vacuum lifters, Wood's Powr-Grip manufactures various products to address other materials handling needs: The DoorJack makes a convenient dolly for handling doors, counter tops, stone slabs, office partitions, plywood or nearly any other sheet material up to 2" [5 cm] thick or 300 lbs [135 kg] in weight. Since Vacuum Base Drill Stands attach to smooth, nonporous materials without damaging the surface, they provide a secure, temporary mounting system for drilling holes, wherever the materials may be located. The Bridge-Style Drill Stand offers all the advantages of other Drill Stands, while adding an adjustable mounting system that is capable of spanning counter top cut-outs, defects or other obstacles on the material surface.
You have successfully added from to your part list.
---