Multipurpose Vacuum Lifter for Glass Handling
Product Announcement from Wood's Powr-Grip Co., Inc.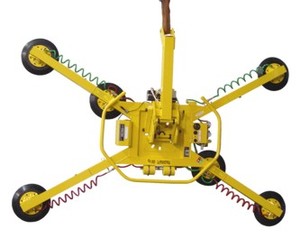 The Quadra-Tilt Rotator 1100 from Wood's Powr-Grip® makes tilting heavy glass between the upright and flat positions easier. The MRTA611LDC features an innovative four-bar tilt mechanism, providing a mechanical advantage that significantly reduces operator effort without the weight or expense of a powered tilt actuator. With a maximum load capacity of 1100 lbs [500 kg], the MRTA611LDC is one of Wood's Powr-Grip's most powerful multipurpose vacuum lifters. This lifter also reduces hazards associated with lifting glass from upright racks: When the load is tilted to either the upright or the flat position, the MRTA611LDC is able to maintain the load position automatically without the use of latches, eliminating the tendency for a load to "kick back" at the operator's knees.
Convenient for glass installation jobs, the MRTA611LDC also features a dual vacuum system, DC-powered operation, 360° manual rotation, and movable/removable vacuum pads and extension arms that accommodate a variety of load sizes and shapes. Multiple pad frame configurations add versatility to glass installation on commercial and residential jobs. Because the MRTA611LDC is self-contained with DC power, it can easily work off of a crane, forklift, or jib boom. The MRTA611LDC is also useful in low-volume fabrication settings. DC power enables the lifter to be used in multiple shop locations.
The Dual Vacuum System features two vacuum line circuits, allowing the lifter to maintain the vacuum level for one circuit even if an unexpected vacuum loss occurs in the other one. This system is designed to reduce the risk of falling loads, which could result from breakage or other accidents that compromise one area of the vacuum system. In addition, it features audible and visible alarms that warn the operator whenever the vacuum level is not sufficient for lifting the maximum load weight.
You have successfully added from to your part list.
You need Flash player 8+ and JavaScript enabled to view the Multipurpose Vacuum Lifter for Glass Handling video.
Get the Latest Flash player.
---