High-Elevation Vacuum Cup
Product Announcement from Wood's Powr-Grip Co., Inc.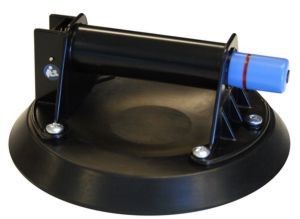 Wood's Powr-Grip® is proud to announce the addition of a very specialized vacuum cup to its growing line of hand-held vacuum lifting equipment – an 8" flat vacuum cup for high elevations.
For years, there has been a void in the vacuum lifting market when it comes to performance at higher elevations. Wood's Powr-Grip's N4100 is a new breed of vacuum cup that is specifically designed to fill this void and function at elevations up to 12,000 feet [3650 meters].
With a lifting capacity of 100 lbs [45 kg], the N4100 features a lightweight, rugged ABS handle that helps stave off user fatigue. It attaches rapidly to smooth, flat nonporous surfaces for use on a variety of materials ranging from glass to metal. While in use, the Wood's Powr-Grip trademark red-line indicator warns the user of any loss of vacuum. If the red line should appear during use, a special check valve allows re-pumping without loss of remaining vacuum so the user can continue working without having to reattach to the load. When the user is ready to release from the material being handled, a convenient valve lever enables the quick and complete release of the load.
Unlike other Wood's Powr-Grip hand-held vacuum cups, the N4100 comes with a distinctive blue pumping mechanism. This feature allows the user to discriminate between regular Wood's Powr-Grip hand cups and the high-elevation vacuum cup at a glance to assure that the right tool is being used for the job.
For more information or to locate a distributor in your area, contact Wood's Powr-Grip Co.,Inc. at 800-548-7341 or visit our website at http://www.wpg.com
You have successfully added from to your part list.
---