New Multipurpose Vacuum Lifter
Product Announcement from Wood's Powr-Grip Co., Inc.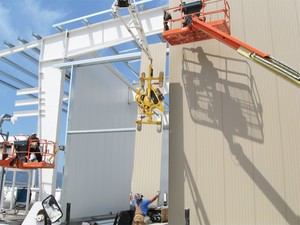 MRTALPR4 series vacuum lifters meet the challenge of installing insulated metal panels, architectural metal panels, stone or other products with some surface texture. These vacuum lifters feature flexible vacuum pads, movable pad mounts and adjustable T-arms to accommodate a wide variety of insulated panel sizes and contours. Optional pad frame extensions and rocker arms increase capacity and support, when needed to install longer and heavier roof panels.
The new MRTALPR4 comes in two basic configurations: While these vacuum lifters have essentially the same frame, features and available options, the primary difference is the style of vacuum pad. The MRTALPR4FS625DC comes outfitted with four oval pads to enable use on architectural panels with regularly spaced ridges or curtain wall sections with mullions or similar obstructions. The MRTALPR4HV11FDC sports four round pads equipped for lifting flat materials such as low-relief metal panels, stone and glass.
The MRTALPR4 vacuum lifters come standard with a high-flow pump and vacuum blow-off, enabling rapid attachment and controlled, hands-free release. The dual vacuum system helps prevent load damage and possible injury, by maintaining vacuum in one circuit even if the other were to experience a leak. An adjustable-position lift spool provides three different lift points to optimize the lifter's hang angle, making repetitive material placement quicker and easier.
An impressive array of new options further adds to the utility and versatility of the MRTALPR4 lifters. Intended for the cladding industry, available pad frame extension arms for roof panels come with four arms, a specialized lift shackle and four suspension straps-enabling a vacuum lifter to install roof panels up to 60 feet [18.3 m] in length.
The MRTALPR4 lifters come standard with two T-arm pad frame extensions. By adding the optional pad frame extension arms and optional pad frame rocker arms, along with two additional T-arms, the lifter's load capacity can be increased from 600 lbs [270 kg] to 1100 lbs [500 kg]. These options enable the vacuum lifter to handle longer, heavier roofing panels with ease while supporting the panels to prevent damage from flexing or bending.
Optional remote control allows an operator to control the functions of the vacuum lifter without having to be in close proximity. The long-lasting 18 amp-hour battery significantly extends the run time of the vacuum lifter, eliminating the need for frequent recharging while providing more time on the job.
For more information visit www.powrgrip.com or contact one of our Technical Sales Representatives at 800-548-8231.
You have successfully added from to your part list.
---