Video of PT10 Workhorse for Stone Fabrication
Product Announcement from Wood's Powr-Grip Co., Inc.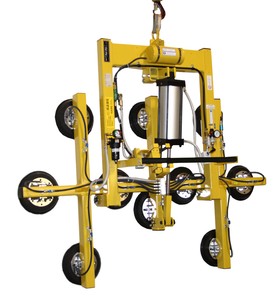 Wood's Powr-Grip® PT10HV11F vacuum lifter is establishing itself as a workhorse in stone fabrication shops worldwide. With power tilt, ten 10" [25 cm] vacuum pads, an impressive 1500 lbs [680 kg] capacity and robust construction, the PT10 reduces material breakage and manpower needs, while also increasing safety and the shop's bottom line.
Pad Frame Extension Arms are an option designed to augment the versatility of the PT10 vacuum lifter: Specifically engineered to fit new or existing PT10 vacuum lifters, these extension arms allow the operator to reconfigure the pad frame layout to accommodate different sized or irregularly shaped loads. With Pad Frame Extension Arms in place, the vacuum lifter is configured to support significantly wider or longer loads (depending on configuration).
The PT10 itself has an impressive array of standard features, including spring mounted vacuum pads with individual shutoffs to each pad. Spring mounted pads allow the vacuum lifter to quickly attach to surfaces that are less than perfectly level, while individual pad shutoffs allow the operator to turn off airflow to vacuum pads that may be positioned over surface irregularities or sink holes. Closed cell foam pad rings enable the operator to lift loads with surface texture, and the vacuum blow-off feature allows for quick release of the load and faster turn-around times.
The PT10 is available with an AC-, DC-, or air-powered vacuum system. Other options include a vacuum loss warning buzzer, DC vacuum back-up system and control handle extensions. For more information visit www.powrgrip.com or contact one of our Technical Sales Representatives at 800-548-7341.
You have successfully added from to your part list.
You need Flash player 8+ and JavaScript enabled to view the Video of PT10 Workhorse for Stone Fabrication video.
Get the Latest Flash player.
---