Wood's Powr-Grip® Eazi-Lifter™ Window Crane
Product Announcement from Wood's Powr-Grip Co., Inc.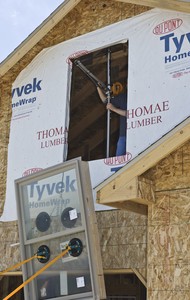 Installing and removing windows in multistory buildings can be a lofty challenge, especially when dealing with irregular terrain, landscaping, soffits and overhangs. The Eazi-Lifter's™ patented design allows a boom to extend through the window opening while a winch raises or lowers the window, supporting the window's weight. This innovative lifting device eliminates the need for workers to carry bulky windows through buildings or balance them from ladders during installation or removal. The Eazi-Lifter™ Window Crane System improves profits by increasing productivity and worker safety while reducing damage and extra work! This lightweight and portable lifting device handles windows up to 220 lbs [100 kg] and accommodates window openings up to 30 ft [10 m] off the ground.
An optional accessory kit accommodates varying installation challenges, such as shallow reveals and check reveals, as well as floor mounted and raked head frames. Whether you are handling heavy or awkward loads, working in difficult or dangerous places, at a height or ground level, you need the tried, tested and truly versatile Eazi-Lifter ™. For more information visit www.wpg.com or call one of our technical sales reps at 800-548-7341.
You have successfully added from to your part list.
---