Product Announcement from Wood's Powr-Grip Co., Inc.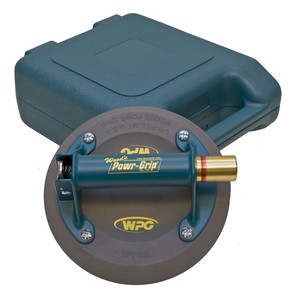 At first glance, this Premium N-Series vacuum cup is easily recognizable by its sleek new appearance. A one-piece cast metal handle has rounded corners for maximum operator comfort. The corrosion resistant handle is topped off with a new powder coating, enhancing the durability and longevity of the finish.
While the metal pump with its low vacuum red-line indicator will look familiar to Wood's Powr-Grip enthusiasts, the release mechanism has been reworked with a comfort-fit lever and lighter spring action for quicker, more accessible cup release. Because the size and shape of the metal pump has not been altered, the new Premium N-Series Hand Cups will also accommodate the High Elevation pump, as well as the Low Vacuum Audio Alarm pump, enhancing the versatility and functionality of this new hand cup.
Wood's Powr-Grip has incorporated a low-marking, lipped vacuum pad. Made of a low-marking rubber compound that is specially formulated to avoid leaving marks or stains on light-colored materials, this vacuum pad reduces damage and makes clean-up less of a chore. This rubber compound also excels in resisting abrasion. Because of the lipped pad, the Premium N-Series cup attaches more readily to nonporous surfaces, whether smooth or textured.
For more information visit www.powrgrip or contact one of our Technical Sales Representatives at 800-548-8231.
You have successfully added from to your part list.
You need Flash player 8+ and JavaScript enabled to view the Wood's Powr-Grip Introduces New Premium Hand Cup video.
Get the Latest Flash player.
---