Wood's Powr-Grip Introduces New Product
Product Announcement from Wood's Powr-Grip Co., Inc.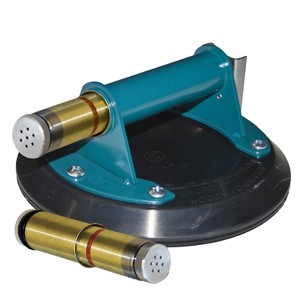 When working on the job, it's great to have Wood's Powr-Grip's hand-held vacuum cups: Since the red-line indicator warns of vacuum loss, it is a welcome feature that brings added safety and peace of mind. But what about those circumstances when the positioning of the hand cup or the cumbersome nature of the load make visual monitoring of the red-line indicator difficult?

Several months ago, the Wood's Powr-Grip New Product Development team took aim and targeted the issue of added safety when visual monitoring of the red-line indicator on hand cups was difficult. Their solution is the culmination of hundreds of hours of thoughtful design and testing: the Low Vacuum Audio Alarm Plunger (LVAA).

The LVAA is a metal-clad plunger that was uniquely designed to emit a warning tone when vacuum levels begin to drop below acceptable levels. The familiar red-line indicator is still present, but with the new LVAA Plunger, a 70 dBa audible warning alerts the user and others nearby when the red line on the plunger begins to show due to vacuum loss.

Powered by an AAA battery, the warning alarm has been incorporated into the plunger assembly, making it compatible with many different models of Wood's Powr-Grip hand-held vacuum cups. Operation is as simple as that of a standard hand cup. The intelligent system automatically turns the alarm on and off as necessary, so no user intervention is required.

The LVAA plunger assembly is now available on most Powr-Grip N-Series vacuum cups, including N4000, N4950, N5450 and N6450, as well as the LJ6VH Vertical Handle. Current owners can also retrofit their existing WPG hand cups (including the ABS cups) and upgrade to the new LVAA plunger. Besides bringing added safety to handling loads by hand, vacuum cups equipped with the LVAA plunger are well suited for use with Wood's Powr-Grip's Hand Cup Frames, the Ace Dolly and the CR Laurence All-Terrain Dolly.

The Low Vacuum Audio Alarm plunger assembly is available as a stand-alone component or pre-installed in most N-Series hand-held vacuum cups. For more information, visit the Wood's Powr-Grip Authorized Dealer nearest you, contact one of our Technical Sales Representatives, or visit us on line at www.wpg.com.
You have successfully added from to your part list.
---