Corporate and Professional Education
Service Detail from Worcester Polytechnic Institute - Corporate and Professional Education Division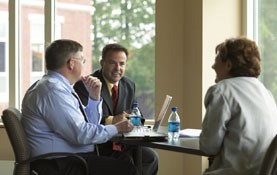 Relevance
At WPI Corporate and Professional Education, our definition of training and development does not merely mean increasing your knowledge base. To us, education is more than learning a new skill set. To remain relevant and achieve success in today's competitive global marketplace, you and your organization will be required to translate learning into results that produce value.
For almost 150 years, WPI has developed leaders in the engineering, technology, and business fields - professionals who have pushed industries forward and changed the world. In this tradition, WPI's Corporate and Professional Education team is the leader in closely partnering with clients - at both the individual and organizational levels - to achieve powerful results-based solutions.
We understand the need for a highly educated workforce at every level. Our interdisciplinary approach delivered by experienced practitioners ensures that participants can apply the knowledge they learn to the technological and business challenges they face today, and in the future.
Accessibility
Whether it's producing new ideas, new technologies, new processes or products, we prepare you to create powerful results that have lasting impact. By offering programs such as
Workshops
Certificate Programs
Graduate Programs
all of which are available on a custom basis, our team works side-by-side with you to create the best delivery format for your needs. On our campus or yours, in-person or virtually, we have the flexibility to make learning work effectively with your unique schedule throughout the year.
Quality
Corporate and Professional Education excels at crafting learning experiences that propel your career or business to thrive. You benefit by intense, integrated, customized course work developed and delivered by experienced WPI instructors - top rate academicians and professionals in their fields who meet the high quality standards set by the larger university.
Increase your performance. Optimize your investment. Learn from the best.
Discover WPI Corporate and Professional Education.
---