Small Units
Product Announcement from Wyssmont Company, Inc.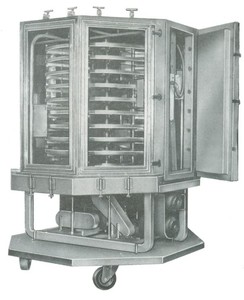 Suitable for small-scale drying the Model "K" TURBO-DRYER® shown with side panels removed, can handle from 25 to 200 lbs. /hr. (11-90kg) continuously. Measuring 4' (1.2m) in diameter and 5' (1.5m) in height, this all stainless steel unit has the same features as the larger units. It can be used for specialty product applications for which batch unit operations including those requiring vacuums are often used; and for in-plant testing in order to confirm product quality and scale-up for larger commercial scale units.
Even, thorough and rapid drying
Wyssmont TURBO-DRYER® delivers very uniformly dried product because material is intermittently redistributed with plug-flow operation. Uniform inside temperature or zoned temperature regions. The closest product temperature control of any dryer possible. Can give the lowest residual moisture of any dryer.
Product Quality
Gentle handling. Little dust, fines. Little product degradation, even with fragile materials such as crystals and pellets. Provides a free-flowing product when other dryers produce material that cakes or sets-up in containers, silos, or railcars.
---