The Best Municipal Sludge Dryer: Cost Effective
Product Announcement from Wyssmont Company, Inc.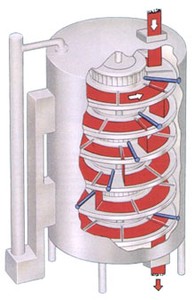 The TURBO-DRYER® consists of a stack of slowly rotating circular trays. Material is fed onto the top tray. After one revolution the material is wiped onto the next lower tray where it is mixed, leveled, and then after one revolution, is wiped to the next tray where the operation is repeated. The trays are contained in an enclosure in which heated air or gas is circulated by internal fans. Print Friendly Version
Even, thorough, and rapid drying. Uniform inside temperature or zoned temperature regions. The closest product temperature control of any dryer possible. Can give the lowest residual moisture of any dryer. Request more info.
Product Quality
Gentle handling. Little dust, fines. Little product degradation, even with fragile materials such as crystals and pellets. Provides a free-flowing product when other dryers produce material that cakes or sets-up in containers, silos, or railcars.
Features
Handles temperatures up to 1200

°

F
Precisely controlled temperature and residual time
Easily adjusted and automatically maintained drying conditions
Can adjust to varying feed rates
Can operate with inert atmosphere recirculation with solvent recovery
Operates as a dryer, cooler, reactor, heat treater, calciner, humidifier, agglomerator, sublimer, roaster, in combination if required.
Environmentally sealed, and explosion-proof models
The self-cleaning wiping action often eliminates the need for manual cleaning at product changeovers
Easy startup and operation on different materials
Low maintenance costs because of its unparalleled reliability
Low energy costs. Low labor costs
Can use any heating medium: steam, gas, electricity, oil, high temperature oil or waste gas from other operations
Does low temperature drying as low as 60

°

F without vacuum or up to 1200

°

F
Available in laboratory sizes, package units, and large field erected sizes
Manufactured in a wide range of materials
Vertical construction, little space requirements. Outdoor or indoor installations
Accurate scale-up from tests on a few pounds
---