Advanced Reflux Sampler~ Yokogawa
Product Announcement from Yokogawa Corporation of America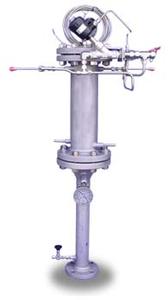 The Yokogawa Advanced Reflux Sampler is designed to provide conditioning for severe service analysis needs using a simple self contained two stage system. The first stage is designed to provide filtration of particulate and passive cooling. As the sample reaches the second stage, it is directed through a transition piece which channels the air evenly across two active cooling elements. The cooling elements provide 360 degree contact between sample and coolant. As the cooling takes place, condensate and Heavy Hydrocarbons removed from the sample are gravity fed back through the reflux section, washing the sample inlet of particulate and other fouling compounds. Temperature is tightly controlled with a single point temperature measurement fed to a controller which cycles the two active cooling elements.
• Self Acting Version available in either fixed or adjustable set-points with optional over temp shut-off valve (no electricity required)
• Electronic Version via integral controller or from plant DCS system
• Tight Temperature Control produces high quality, consistent sample for analysis. Can be controlled to within 0.5°F of set point depending on type of control.
• High Throughput for reduced sample transport time. Up to 5LPM (application dependant)
• Improved Cooling Efficiency lowers utility costs
• All Components field serviceable
For more information Contact us Today!
---