CW240 Clamp-on Power Meters
Product Announcement from Yokogawa Corporation of America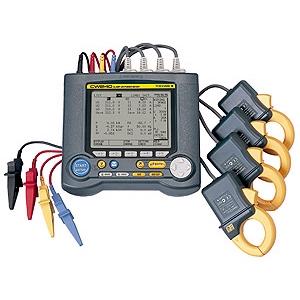 The CW240 from Yokogawa is our powerful new tool for simultaneous measurement of power, voltage fluctuations, harmonics and waveforms. It has an input voltage range up to 1000V with optional current clamps rated from 2A to 3000A. Wiring inputs are 1p2w to 3p4w as well as capability for multiple system load measurements. With a host of new features, the CW240 compares very favorably with all the usual suspects. Key features of the CW240 are highlighted below.
Electric energy measurement: Integrated values of active, regenerative, reactive power quantities (leading/lagging)
Instantaneous measurements: Volts & Amps per phase & average, Watts, Vars, VA, Power Factor, Phase Angle, Frequency
Demand measurement: Maximum power demand during selected interval
Waveform measurement: One cycle of voltage or current with 20x zoom capability
Voltage fluctuation measurement: Dips/swells/ instantaneous power failures
Harmonic measurement: Displays each order from the 1st to the 50th harmonic
Leakage current measurement with optional 2 Amp clamp-on CT's
Memory: Optional flash memory cards up to 512MB with 1MB backup internal memory
Display: 5.7" QVGA monochrome LCD with backlighting button
Four channel analog output and two channel analog input options
RS232 communications and ToolBox240 software included
Powered by 6 AA batteries or AC adaptor. Also, by optional NiMH battery
CE & UL rated
Click here for full specification
Headquartered just south of Atlanta, Georgia,Yokogawa sales offices across the United States. Our commitment to our customers is our number one priority, and we back it up with a network of representatives and distributors that reflect this commitment.
Our parent company, Yokogawa Electric Corporation, is dedicated to developing the most advanced control and instrumentation products and systems in the world. Today, Yokogawa has a firm hold on its position as a leading manufacturer in the fields of measurement, control, and information. As a major global player, the company anticipates the needs of the times, continually tackling new challenges and exploring new markets in order to provide the best solutions in the world.
Yokogawa's commitment to innovation is reflected in our extraordinary investments in R&D, which ensure development of the most advanced products and services. Yokogawa has consistently made above-average investments in research and development. In fact, over the past decade we have set an industry standard by committing a full nine percent of sales revenue each year to R&D.
---