EXAxt 402/22 Oxygen Analyzer & Detector
Product Announcement from Yokogawa Corporation of America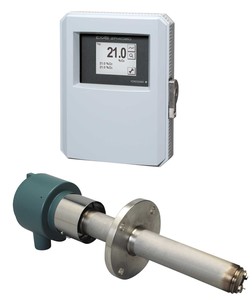 The EXAxt ZR402 analyzer is the industry's newest and most advanced remote mounted Zirconia oxygen analyzer. The ZR402 captures all the dependability and functionality of the Yokogawa ZA8C oxygen analyzer. Functions such as automatic calibration control, sensor diagnostics, and efficiency calculations are standard with this product. It also features the industry's latest technological advances such as, easy-to-read, simple-to-use, LCD touch screen operation; real-time trend graphing of process variables; two user configurable analog outputs; and, three user configurable measurement parameters including oxygen concentration, relative humidity, dew point, and moisture content.
Developed from the field proven ZO21D Zirconia probe technology, the EXAxt ZR22 in-situ type Zirconia detector provides dependable and accurate oxygen and humidity measurement. Available in lengths from 15 cm to 5 meters, the ZR22 can be used in process temperatures up to 700ºC and pressurized ducts up to 2.5 bar with the pressure compensating option
Features
Rebuildable, field maintainable design Proven Zirconia sensor technology Can be used in pressurized ducts up to 2.5 bar, 700°C Optional filters or flame arrestors Multiple flange size options
Click here for additional information
About Yokogawa:
Since our establishment in the United States in 1957, Yokogawa Corporation of America (YCA) has become a leading manufacturer and supplier of test, measurement, field instrumentation, process control and information products for North America.
Headquartered just south of Atlanta, Georgia,YCA has sales offices across the United States. Our commitment to our customers is our number one priority, and we back it up with a network of representatives and distributors that reflect this commitment.
*For information on other analytical product visit our home page at
http://www.yokogawa.com/us/products/analytical-products/index.htm
---