FVX110 Fieldbus Segment Indicator
Product Announcement from Yokogawa Corporation of America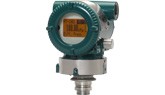 The Yokogawa FVX110 is a field indicator that allow you to switch and display up to 16 indicated values for FOUNDATIONTM Fieldbus devices.
Turn the scroll knob on the case to switch displays. No complex operation is needed in the field and you can observe the indicated values easily. An LCD display with LED backlight and a variety of displays has increased user-friendliness and visibility.
The FVX110 offers as standard not only the functions of a field indicator, but also PID function block, Link master and software download funcitons.
Features of the Products:
Interoperability - Field instruments that comply with the FOUNDATIONTM Fieldbus specifications are fully interoperable
Display of up to 16 process variables - Up to 16 process variables from multiple field instruments can be displayed
Full dot-matrix LCD with LED backlight - The backlit full dot-matrix LCD clearly displays text and graphics
Link master function -The FVX110 supports a link master function that enables local control using field devices
Function blocks - 2xMAO, 2xlS, 2xAR, 1xSC, 1xSC, 1XIT, and 2xPID as standard
Software download (standard) - Software download function makes it possible to download updates to the FVX110 software
Scrolling Display - Display "Scroll" function enables you to switch display easily with rotation knob (scroll knob) Two scrolling modes can be selected with a simple turn of a knob
Click here for full specifications
About Yokogawa:
Since our establishment in the United States in 1957, Yokogawa Corporation of America (YCA) has become a leading manufacturer and supplier of test, measurement, field instrumentation, process control and information products for North America.
Headquartered just south of Atlanta, Georgia,YCA has sales offices across the United States. Our commitment to our customers is our number one priority, and we back it up with a network of representatives and distributors that reflect this commitment.
---