NEW FU24 All-in-One pH/ORP Sensor
Product Announcement from Yokogawa Corporation of America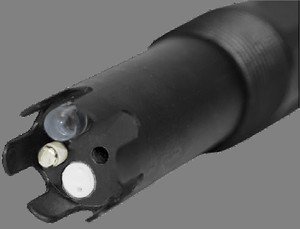 The FU24 is made with a chemical resistant PPS 40GF body. It is particularly useful in harsh applications with fluctuating pressure and/or temperature. These processes shorten sensor life because the process fluids move in and out of the sensor under influence of frequent pressure and/or temperature fluctuations. This results in fast desalting and dilution of the reference electrolyte which in turn changes the reference voltage causing a drifting pH measurement.
By integrating the successful Yokogawa patented Bellow system in the FU24 electrode, a strong pressure compensation mechanism is created. The built-in bellow ensures immediate interior pressure equalization to the outside pressure, making the sensor virtually insensitive to external pressure variations. A slight overpressure caused by the bellow tension, prevents fluid ingress and maintains a positive ion flow out of the sensor.
Features
Long life double junction Ag/AgCl reference system with polymerized saturated KCl fill including AG+ ion trap.
PTFE reference diaphragm to prevent fouling and reduce measurement error.
Integral Pt1000 element for accurate temperature measurements
Double junction combined with ion-trap to prolong the life of the reference probe even in chemically unfavorable environments.
Platinum ORP/LE electrode for accurate simultaneous pH and ORP measurements.
Versatile in-line, immersion or off-line installation.
Polymerized electrolyte to extend the sensors life time.
Variopin connector
Documentation:
You have successfully added from to your part list.
---