NEW GC8000 Process Gas Chromatograph
Product Announcement from Yokogawa Corporation of America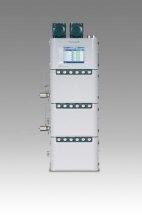 The GC8000 also brings a number of important innovations in its gas chromatograph analytical capabilities. For the first time, parallel chromatography is made practical with the introduction of the GC Module (GCM) concept. By setting up virtual GCs within a single analyzer, all chromatograph settings, displays, and data are truly segregated for easy understanding and maintenance. There are even built-in graphical overview screens showing each of the individual GC Modules.
The GC8000 has a built-in 12-inch color touchscreen display that dramatically simplifies maintenance. At the touch of the screen, the technician can access all of the analytical parameters and measurement results; displayed in easy-to-understand graphical color screens.
The GC8000 uses the same proven analytical hardware found in our previous model of GC; recognized for its reliable and precise performance. But with the GC8000, the analytical possibilities are greatly expanded through the multiple oven capability of the analyzer.

The communications network of the GC8000 is based on the industry standard Ethernet structure to provide flexible yet secure transmission of data to GC maintenance workstations and the plant DCS system. The GC8000 can be set up for either a single Ethernet network or a redundant network with two completely isolated Ethernet networks if desired.
For More Information Check out our GC8000 MicroSite or to Check out the Control Product Exclusive
Features
* Standard Oven (5 valves and 2 detectors max.)
* Large Oven (7 valves and 2 detectors max.)
* Programmed Temperature Oven
* High-speed analysis with multi-oven structure
* Improved operation with a large HMI touch panel
* High reliability
* Improved functionality

Play NEW GC8000 Process Gas Chromatograph Video
---