O2mation EXAxt AV550 Averaging Oxygen Analyzer
Product Announcement from Yokogawa Corporation of America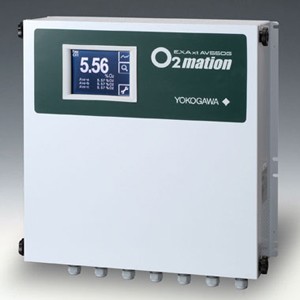 In the spirit of the zirconia sensor "remaining life" diagnostic, Yokogawa introduces predictive calibration dates, cell asymmetry alarms and detector validation features. These new process diagnostic tools use historical process data to provide operators new ways to reduce measurement down time. The predictive calibration and detector validation features reduce the number of redundant calibrations. The sensor asymmetry alarm provides users a new look into the problem of fly ash plugging by monitoring the particular symptoms of the pressure-induced drift. O2mation is a modular design. Channel cards can be changed without powering off the analyzer and the unit is easily expandable to accept up to 8 zirconia detectors. O2mation has the capability to output the average oxygen concentration from a user-selected group of zirconia detectors. Detectors that are in alarm, calibration, or that are not in service, are automatically removed from the average output. This feature is especially useful when plant maintenance schedules call for frequent calibrations. O2mation has a wide variety of contact outputs, alarms, and analog output configurations that are designed for easy set up and integration into the boiler control system. Yokogawa has refined our years as combustion oxygen experts into this new product. It is the most robust, reliable and accurate zirconia oxygen measurement possible.
Full color touch screen operation
Multiple display modes shows average data, single detector or all detector gas concentrations
Handles input of up to 8 oxygen detectors
Redundant system using multiple CPUs
"Hot swap" of channel cards to minimize analyzer down time
Eight 4/20mA outputs for individual detectors
Three 4/20mA outputs for average oxygen concentration outputs
Failed, in calibration, or alarming, detectors are automatically excluded from average calculations
Automatic or manual type calibration methods
24V or 120VAC auto-calibration power option
Allows contact input, calibration activation, range change and detector performance validation
Intuitive "common language" operation
Housing temperature alarm to notify user of over temperature conditions on the electronics
Trend graphing - allows trend view and stacked trend view of oxygen concentrations
Smart calibration - uses historical calibration data to estimate when the next calibration should occur
Asymmetry alarm - uses historical calibration data to determine possible measurement errors due to process condition changes
Remote Validation - permits control room activation of zero, span or midpoint gas concentrations without running an actual calibration.
Cal line purge function - allows the gas purge of calibration lines of condensation before the detector is heated up to prevent water damage to the zirconia cell.
Click here for additional information
About Yokogawa:
Since our establishment in the United States in 1957, Yokogawa Corporation of America (YCA) has become a leading manufacturer and supplier of test, measurement, field instrumentation, process control and information products for North America.
Headquartered just south of Atlanta, Georgia,YCA has sales offices across the United States. Our commitment to our customers is our number one priority, and we back it up with a network of representatives and distributors that reflect this commitment.

*For information on other analytical product visit our home page at
http://www.yokogawa.com/us/products/analytical-products/index.htm
---