PR300 compact multifunction power and nergyg meter
Product Announcement from Yokogawa Corporation of America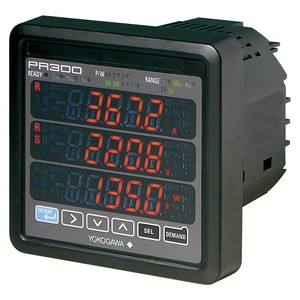 PR300 Compact Multifuntion Meter Where, How, & Why Its used!
Designed to be used in utilities, factories, industrial facilities, buildings, offices, schools etc - wherever energy, power conservation, and analysis are important.
Designed for use in power panels, power systems and switchboards.
Multiple measuring functions (fifteen) will allow this one meter to take the place of several meters thus reducing the cost of ownership.
Features
Accuracy: voltage/current measurement is +/-0.25% of FS
POWERCERT PC Parameter Setting
Universal inputs of 150V, 300V, 600V AC and 1A or 5A AC
Universal power supply for 100-240V AC ±10%(50/60 Hz)/130-300 V DC ±15%
Fifteen types of power and energy parameters can be measured including energy, power, voltage, current,
Frequency power factor, etc/Configurating tool available for downloading - Standard
RS-485 communication – Standard
Ethernet communication - Optional
Analog output, pulse output, and demand alarm output – Optional
Demand alarm contact for demand measurement - Optional
Simultaneously display all three user selectable measuring screens
Integration of DIN 96-square and ANSI 4-inch round instrument sizes into one universal design
Supports single-phase two wire through three-phase four-wire systems
UL61010 approval pending
Compatible with separately available DAQWORX Data Acquisition software for data retrieval and analysis
About Yokogawa:
Headquartered just south of Atlanta, Georgia,Yokogawa sales offices across the United States. Our commitment to our customers is our number one priority, and we back it up with a network of representatives and distributors that reflect this commitment.
Our parent company, Yokogawa Electric Corporation, is dedicated to developing the most advanced control and instrumentation products and systems in the world. Today, Yokogawa has a firm hold on its position as a leading manufacturer in the fields of measurement, control, and information. As a major global player, the company anticipates the needs of the times, continually tackling new challenges and exploring new markets in order to provide the best solutions in the world.
Yokogawa's commitment to innovation is reflected in our extraordinary investments in R&D, which ensure development of the most advanced products and services. Yokogawa has consistently made above-average investments in research and development. In fact, over the past decade we have set an industry standard by committing a full nine percent of sales revenue each year to R&D.
---