RAMC and RAKD Metal Rotameters
Product Announcement from Yokogawa Corporation of America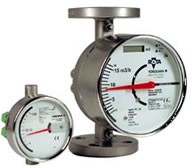 The RAMC short-stroke Rotameter allows the measurement of high flow rates using a relatively short metering tube. It is a stainless steel armored construction for the safe measurement of a variety of liquids, gas and steam. It's special application is for hazardous, dangerous or aggressive fluids, for high temperatures and high pressure rates. The RAKD short-tube mini Rotameter is used for measurements of low flow rates of liquids and gases. Its special application is in troubled, opaque or aggressive mediums and under high pressure.
Model RAMC Metal Short-stroke Rotameter
A float is guided concentrically to a special shaped conic metal tube.The position of this float is magnetically transmitted to the indicator.The short-tube Rotameter is used for measurement of flow rates of liquids and gases. Its special application is in troubled, opaque or aggressive mediums. The instrument is mounted in a vertical pipeline with flow direction upwards. The indicators are exchangeable without influence on the accuracy.
FEATURES
- Different process connections like flanges according EN and ASME
- All wetted parts in stainless steel or PTFE
- Different linings for aggressive fluids
- Maximum flow 0.025 - 130 m³/h water resp. 0.75 - 1400 m³/h air (20 °C / 1.013 bar abs) - Accuracy class 1.6 resp. 2.5 with lining acc. VDI/VDE 3513
- Float damping to avoid float bouncing with gas applications
- Optional heat tracing (with steam or fluid heat carrier)
- Indicator in stainless steel, aluminium or plastic, protection class IP65 or IP66/67
- Local indicator without additional power supply
- Microprocessor controlled transmitter with 24 V, 115 V or 230 V power supply
- Intrinsically safe version (Ex-i) (ATEX, FM/CSA, SAA, NEPSI)
- Flame proof version (Ex-d) (ATEX)
- Dust explosion proof (ATEX)
- Suitable for SIL application, SIL report on request
- Limit switches
Model RAKD Small Metal Rotameter
FEATURES
- Different process connections like internal threads and flanges
- With valves (horizontal connection) and without valve (vertical connection)
- Version with controller (only in combination with valve)
- All wetted parts of stainless steel (1.4571)
- Accuracy class 4 (according VDI/VDE 3513)
- Round industrial standardized stainless steel housing of protection IP 65 (on request IP 67) - Light, guided floats resulting in low pressure loss and stable float movement
- Maximum flow range 1-250 l/h water resp. 40-8000 l/h air, portioned in 13 flow ranges with a relation of 1:10
- Graduation of maximum flow ranges by factor 1,6 realised with 4 floats and 13 cone sizes
- Fine controll valve with PTFE-gasket
- Electric μP-controlled transmitter with linearized output
- Electrical connection by fast connection technique (Quickon)
- Inductive sensors as limit switches also in Fail-Safe-version can be fit
- Pressure controller (normal up to 25 bar at 20°C) for a maximum flow of 100 l/h water resp. 3.250 l/h air
- Connection of common transformer isolated barriers and transmitter power supplies possible - Alignment possibility of the electric transmitters with additional tuner (Service Box).
- Also in Ex-version
You have successfully added from to your part list.
---