TruePeak Tunable Diode Laser (TDLS200) ~ Yokogawa
Product Announcement from Yokogawa Corporation of America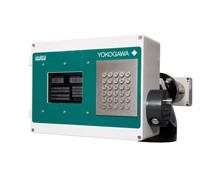 TruePeak Tunable Diode Laser (TDLS200) from Yokogawa.
The first Tunable Diode Laser analyzer, designed specifically for process analysis, Yokogawa's TruePeak tunable diode laser (TDLS) uses a tunable diode laser and measures across an infrared absorbance region. This means you can make measurements in the most demanding applications (high dust, corrosive, aggressive) typically without sample conditioning. It is ideally suited to in-situ analysis, particularly for measurements in environments involving changing pressure or temperature.
The TDLS200 has flexible installation options, materials of construction, and validation methods make the Yokogawa TDLS200 a perfect solution for the most aggressive process applications. A unique alignment method allows adjustment without compromising the process seal.
The TruePeak measurement integrates the area of the absorbance rather than measuring peak height or peak width value alone. This means you get a true interference free analysis.
It can operate with process pressures up to 20 bar absolute and process temperature up to 1500°C, has a fast response (from 2 to 20 seconds), and is interference-free for most applications.
Features
· In-Situ Analysis
· Fast Response (2-20 seconds)
· Interference Free for most applications
· TruePeak Measurement Capable of measuring under changing pressure, temperature and background
· Process Pressures up to 20 Bar
· Process Temperature up to 1500° Celsius
· Optical Measurement, no sensor contact with process
· Low LTCO (no moving parts, high MTBF for components)
· Flexible Installation Options
· On Board Diagnostics
· ATEX Group II for zone 1 (Cat 2G) or 2 (Cat 3G) with purge systems
The new instrument is one of the most robust process analyzers available. In addition to operating in conditions of high temperature or pressure, it can be used under difficult conditions including environments involving corrosive, aggressive and high particulate content materials.
Click here for additional information Contact us Today!

Play TruePeak Tunable Diode Laser (TDLS200) ~ Yokogawa Video
---