Web-enabled Data Acquisition/Data Logging System
Product Announcement from Yokogawa Corporation of America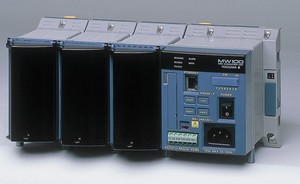 The MW100 is a scalable, high performance data acquisition/data-logging platform designed for both PC-controlled and stand-alone operation under harsh operating conditions. Open Ethernet connectivity with web-based configuration and data monitoring functions allow MW100 to handle a wide range of monitoring and historical logging functions. See real time trends with your web browser from any PC and no special software. A full range of input/output modules handle all of your process inputs with fast measurement speed and high noise immunity for rock-solid performance.
Anytime, Anyplace...
- Wide range of temperatures: -20 to 60°
- FM Approval for Class I Div 2, Groups A, B, C, D
- Reinforced insulation: Between input terminal and case 3700 Vrms (one minute) or 600 Vrms/VDC (continuous)
- A wide variety of network functions: HTTP, FTP, DHCP, SNTP, E-mail, and others
- DC power supply (12 V-28 V) option available
- Multiple protocol support: MODBUS RTU. MODBUS TCP, EtherNet/IP and WITS (Wellhead Information Transfer System) just to name a few
Smart Logging...
- High speed measurement with a single unit (10 channels/10 ms or 60 channels/100 ms):
Shortest measurement interval of 10 ms - Multi-interval: Enables mixing of three different measurement intervals in a single unit (measurement intervals can be set for each module)
- Supports CompactFlash (CF) cards of up to 2 GB. Continuous data acquisition is possible on 60 channels at 100 ms for approximately ten days with a 2-GB card, or for three months on 60 channels at 1 s
- AGA Flow Computer with 100ms flow computation speed; able to calculate up to 10 AGA flow computations per unit
- MATH function on the main module available with the /M1 option
- Collective data acquisition on 360 channels (via Modbus with the /M1 option)
---